Thomas Wolfe wrote, "You can never go home again," and while I understand his premise, I must say that I've been trying to get back home for more than half a century. Finally, I'm moving back to the home of my heart, and that's a place very few people ever find.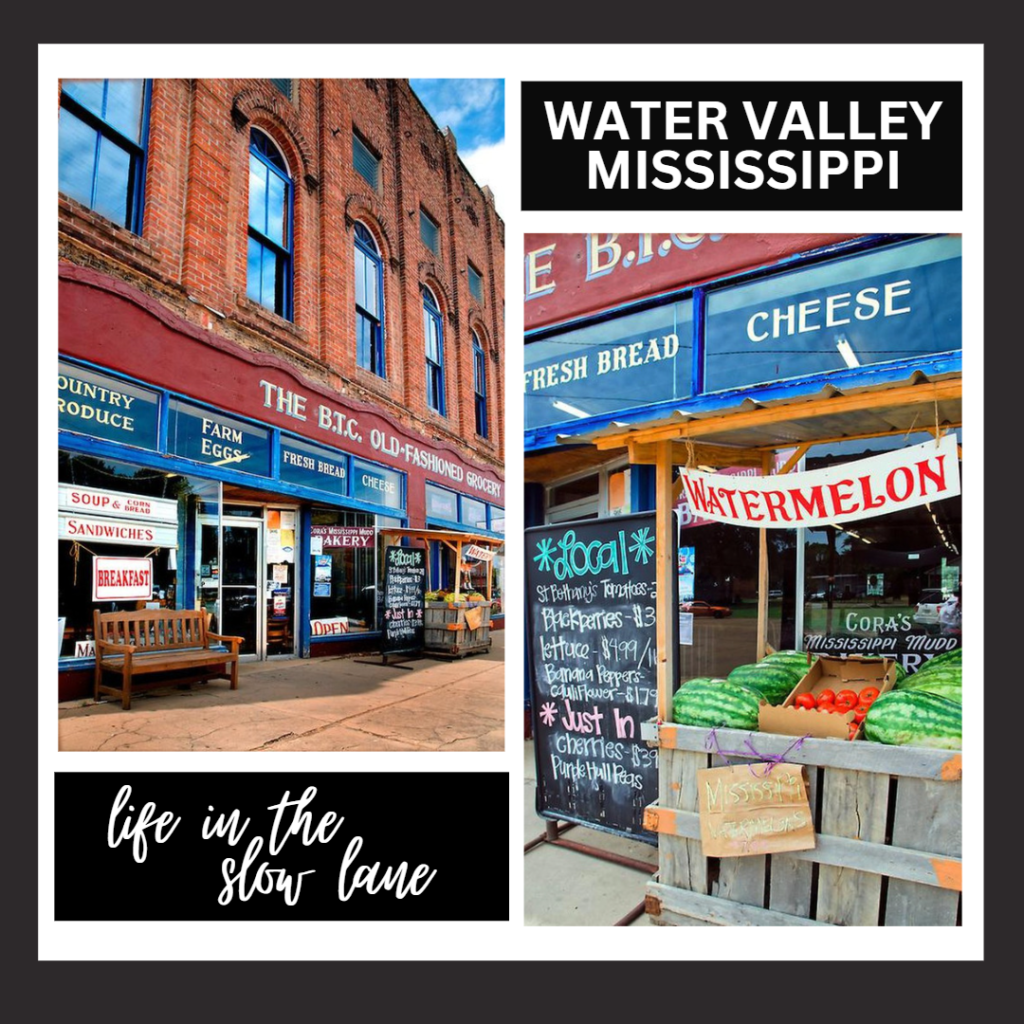 I am moving back to Mississippi, to Water Valley, which is a blend of the Old South and the new. For instance, both the BTC Grocery and the Turnage Drugstore have retained the appearance and the feel of decades past, but they offer amenities that one would wish for in 2023.
The cafe inside the BTC Grocery is called The Dixie Belle. Check out this menu for Valentine's Day:

Image Credit: Restaurant Guru
"The B.T.C. Old-Fashioned Grocery Menu." Restaurant Guru, restaurantguru.com/BTC-Old-Fashioned-Grocery-Water-Valley/menu. Accessed 5 Mar. 2023.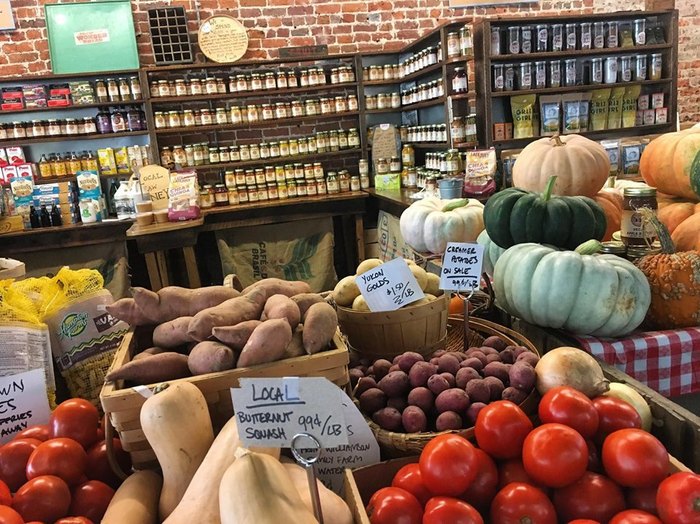 Image Credit: (DiRienzo)
You can still buy groceries at the BTC Grocery, but you can also buy sandwiches and other foods to eat in the cafe or carry home.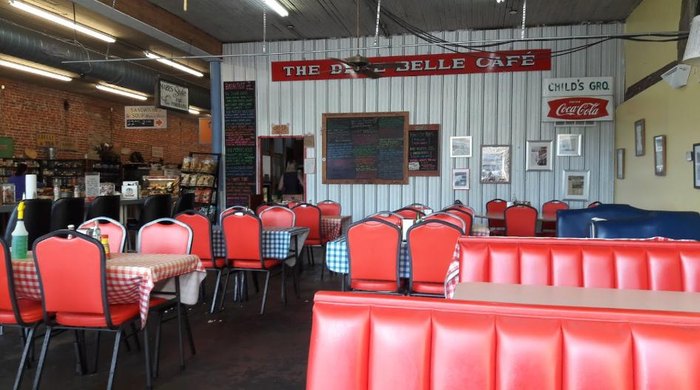 Image Credit: (DiRienzo)
"Over the years, countless publications have featured Dixie Belle Café. In addition to the New York Times, the café has been highlighted by the Wall Street Journal, Food and Wine, and North Mississippi Herald.
"The early-morning fare includes local favorites, like grits and sausage and gravy, as well as classics with a twist, such as red rooster French toast with homemade chocolate gravy." (DiRienzo)
DiRienzo, Daniella. "Take a Tasty Step Back in Time With a Visit to BTC Old-Fashioned Grocery in Mississippi." OnlyInYourState®, 8 Oct. 2019, www.onlyinyourstate.com/mississippi/visit-btc-old-fashioned-grocery-in-ms-for-tasty-step-back-in-time.
Water Valley is a little community filled with gourmet eateries. There are several exotic coffee shops and bistros in  Water Valley. This is not just another little town with a burger joint or two. I don't think it even has a McDonald's, but this is a place where you could elect to eat in a courtyard that rivals spots in New Orleans. My little childhood town never had places to eat like Water Valley has.
https://www.sixpeascatering.com/
Six Peas Catering offers fabulous menus several times a week. Like Santa and his sleigh, the highly skilled gourmet chef at Six Peas parks his wagon of delights somewhere in town, and the townspeople flock around to enjoy selections like the following:
Water Valley's old-fashioned Turnage Drugstore has a blast-from-the-past soda fountain and a checked tile floor:
When I was a child, my little town had a drugstore that looked very much like the one at Water Valley. If you substituted the turquoise for red, you'd see the drugstore where over half a century ago, my daddy took me out for nickel cokes and dishes of ice cream. My little town's drugstore is boarded shut now, but the Turnage Drugstore at Water Valley is still chugging along. I feel very strongly that in moving to Water Valley, I'm finally going back home.
But Water Valley is like my childhood home in more than one way:
("Water Valley Band to Perform")
"Water Valley Band to Perform." The North Mississippi Herald, 17 Aug. 2012, www.yalnews.com/2012/08/17/water-valley-band-to-perform.
Water Valley is a town with a little marching band. When I was a teenager, I was a cheerleader, but I also played the piccolo in my high school band. All of the cheerleaders were in the band, and at half-time, we would all grab our instruments and run out to the field to perform in the half-time shows — in our cheerleading outfits. Every band member was crucial. Admittedly, my memory is foggy about the following, but I would not be surprised if the football players also performed–in their pads and jerseys.
When I was a pre-schooler, I lived on a gravel road that was a block from the high school. Many mornings, the band would practice marching by parading down my street. I've written a picture book about it. It begins like this:
|
("Water Valley Band to Perform")
"A rat-a-tat
A pat-a-pat
A drumming-on-a-drum.
Then the trumpets blast out loud,
A root-a-toot-a-hum."
You see,  I  understand small-town  Water Valley. I lived it.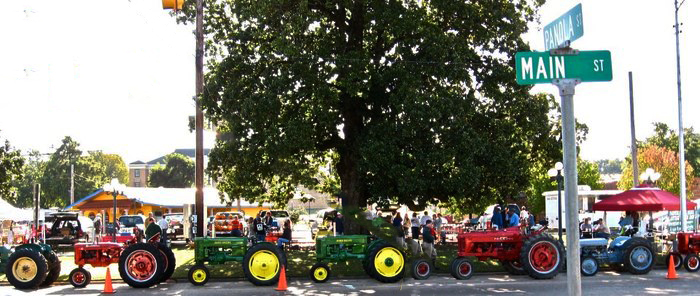 Like my childhood town, Water Valley is a sleepy farm community. There is a farmer's market half a mile from my new, old house.
A couple of years ago, I wrote the following about the place where I grew up:
"When I was a child, I was surrounded for miles by cotton fields, cotton gins, and the dark, rich soil that the Mississippi River had deposited there in earlier years. Because my hometown is the flood zone of the Mississippi River, the soil there is so very rich that hardly any of it is wasted on trees. Occasionally, you might see a narrow line of vegetation, crossing the terrain; but that would probably be on the banks of one of the small creek-like waterways that had long ago been dug there to catch the river, should it flood again.
"Collectively, the waterways around home were called The Floodways. Individually, each of the bodies of water had one of the following more creative names: 1 Ditch, 2 Ditch, 3 Ditch, etc. That is the honest truth.  During the 1950s and 1960s, there wasn't a lot of effusiveness or ornamentation about Southeast Missouri, but it was enough. In fact, it was more than enough. The truth be known, I'd give anything to get back to the Gideon of my childhood again, but that playground is gone in every way but that of my mind.
"My childhood was determined by Cotton, and my calendar was punctuated by the various stages of its growth cycle. The winter was slow and quiet. Spring was an awakening, and summer was a time of growth. During fall, the roads were lined with wagons, in ant-like procession, going to and coming from the gins. Living became the everyday humming of the harvesting of cotton.
"The river ebbed and flowed, and the air was filled with gossamer-like lint, floating from the cotton gins. Like spider's work, it attached itself to trees, poles, and other things nearby. Gauzy and ghostly, the lint-webs were warning us, hinting what would come. You see, while Cotton flourished, his people flowered, too. At that time, Cotton was the King–But Time took his throne.

Water Valley is simple and quiet but in a unique way. It is a town filled with artists and galleries. I'm an artist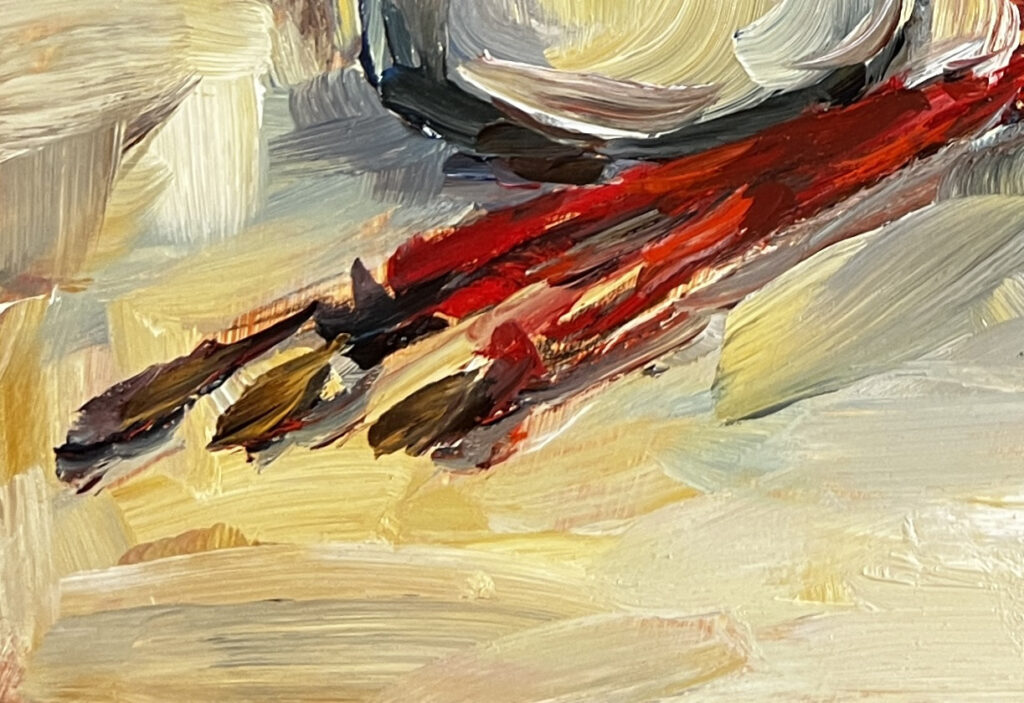 Detail from a Jacki Kellum Oil Painting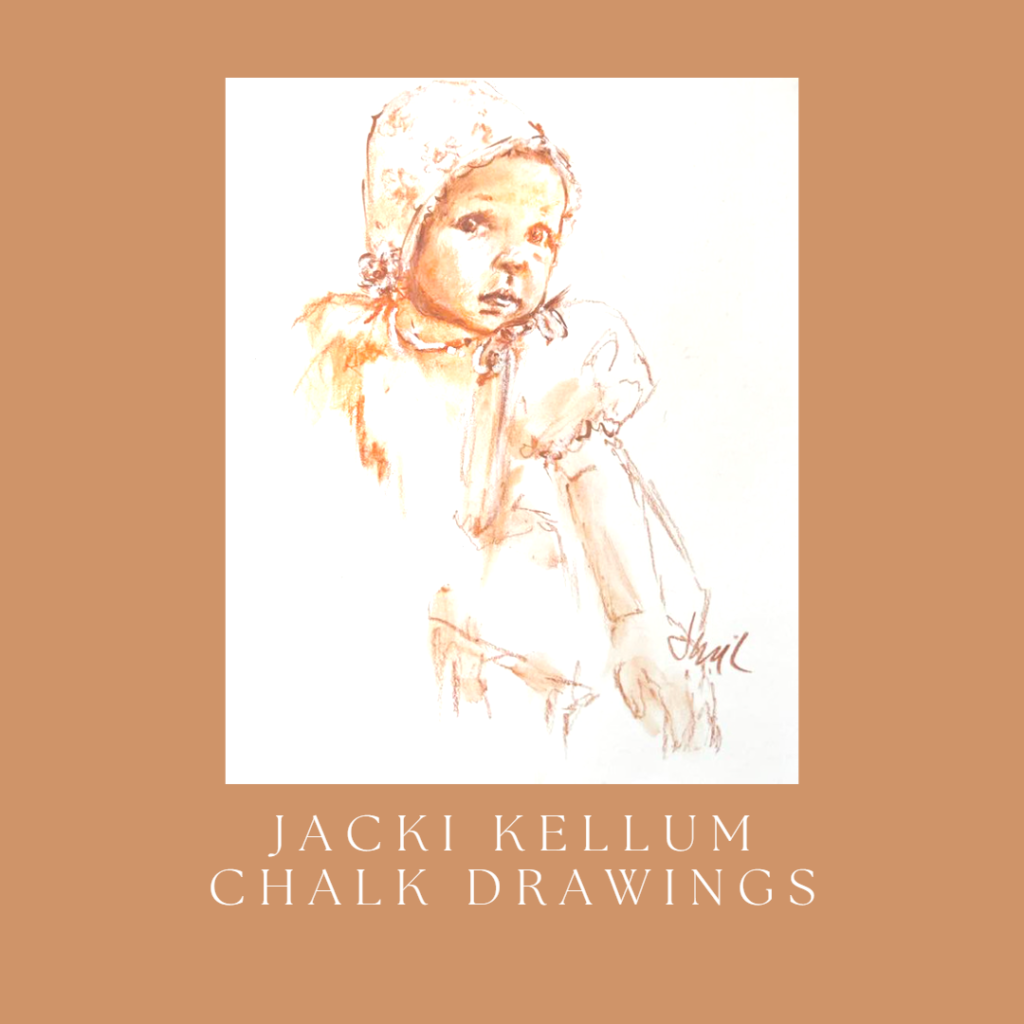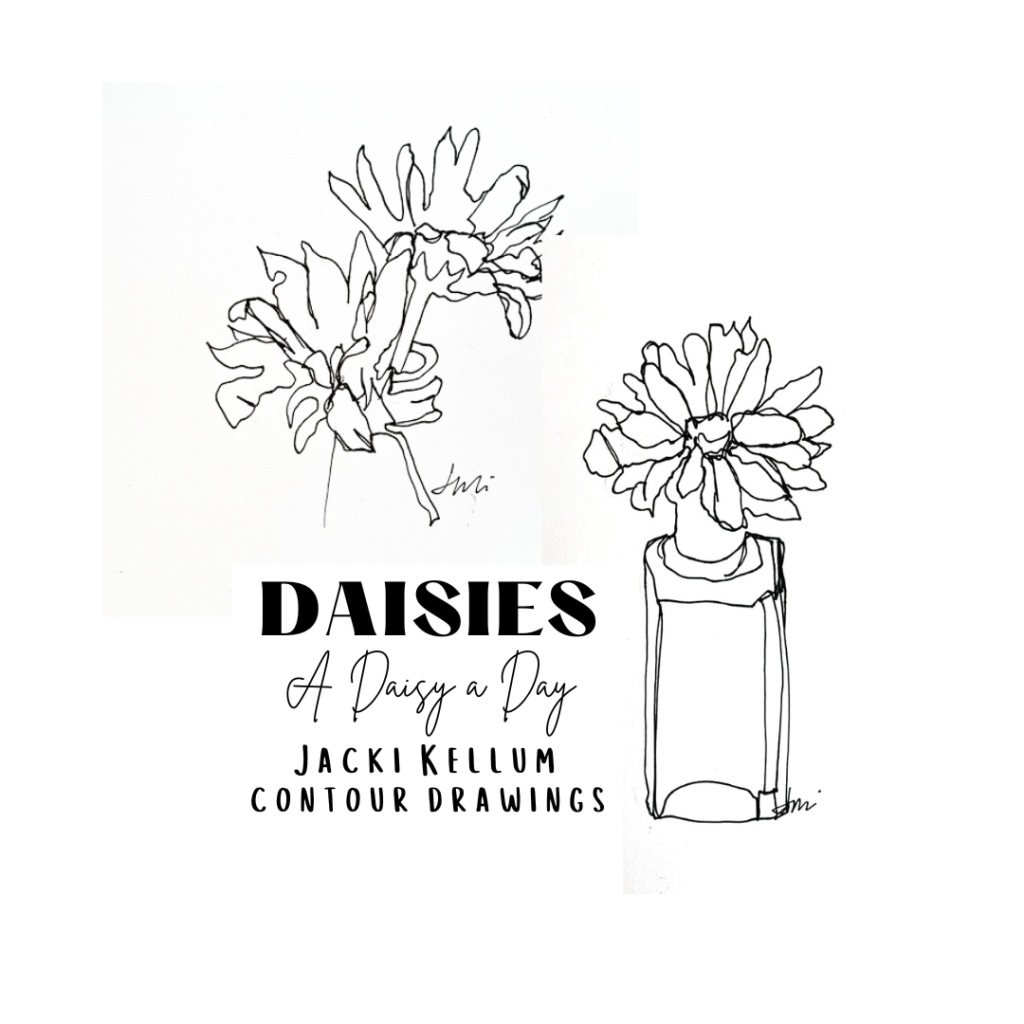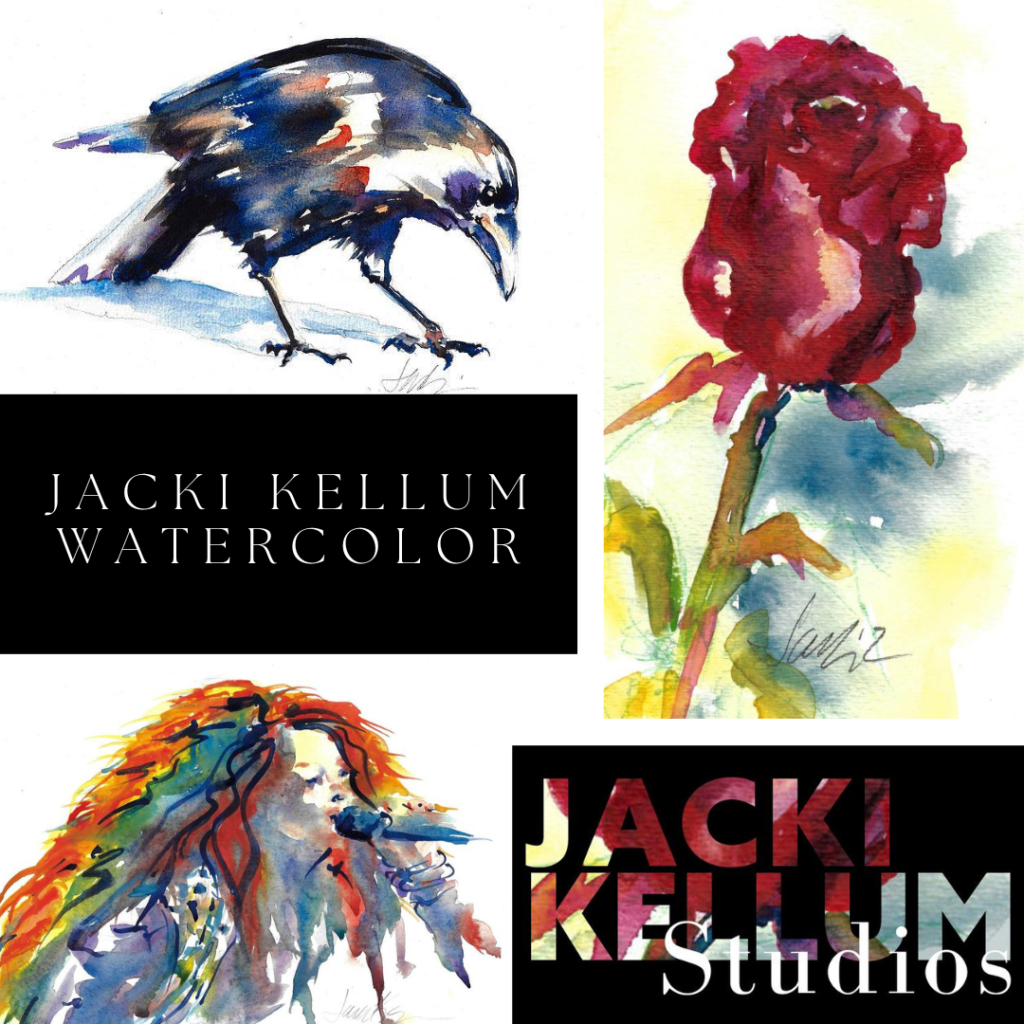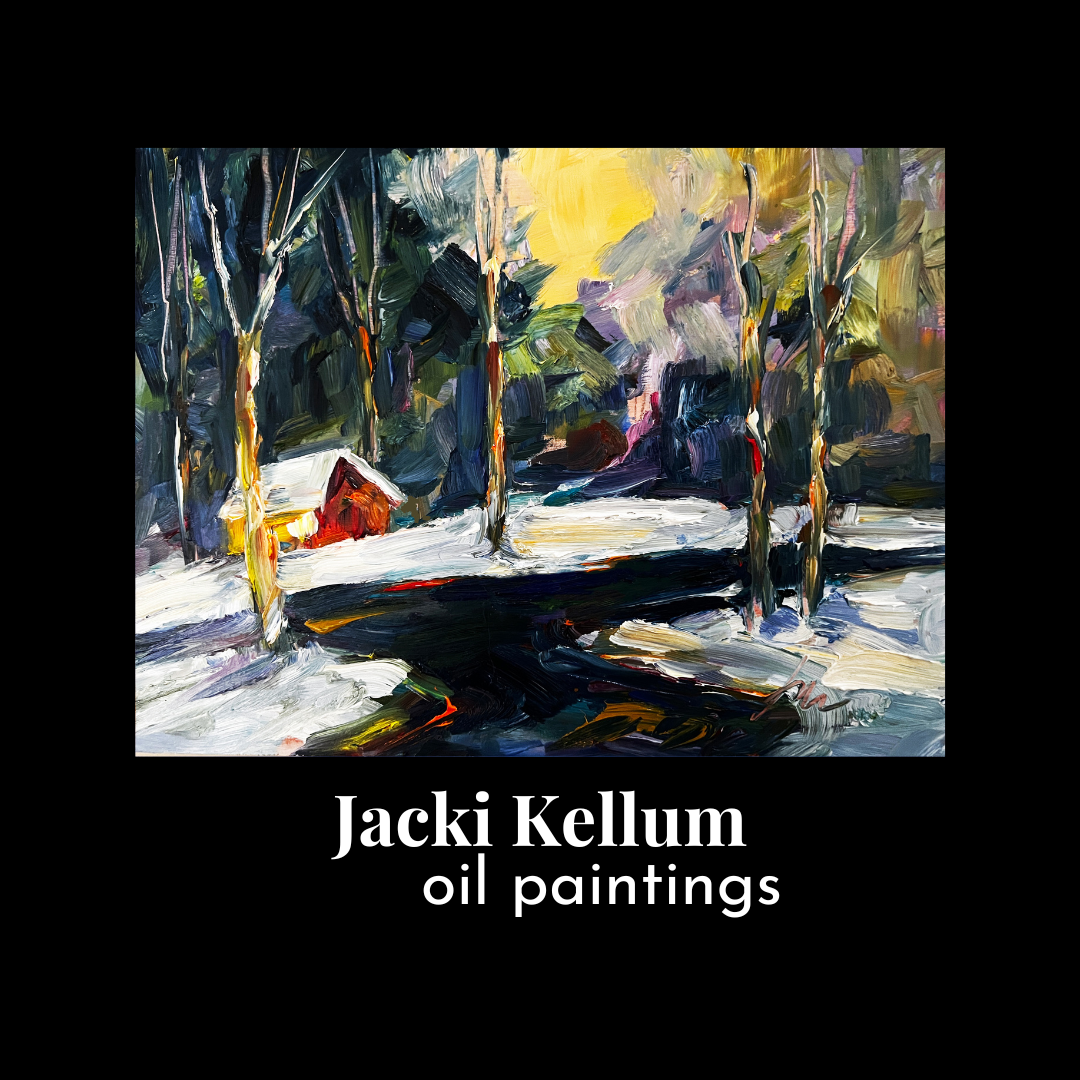 I am also a writer.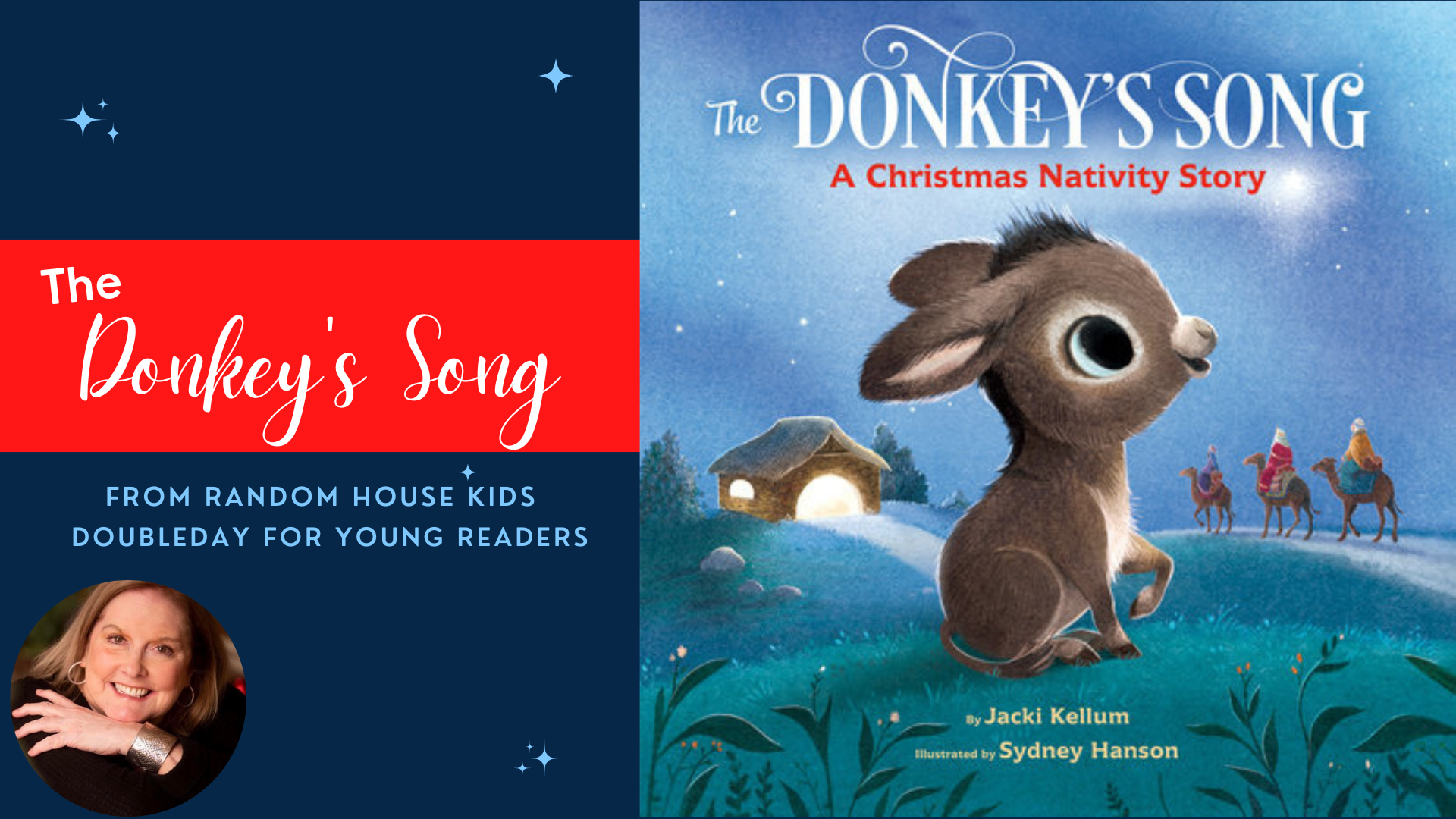 And Water Valley is a place filled with gardeners. I'm a gardener, too.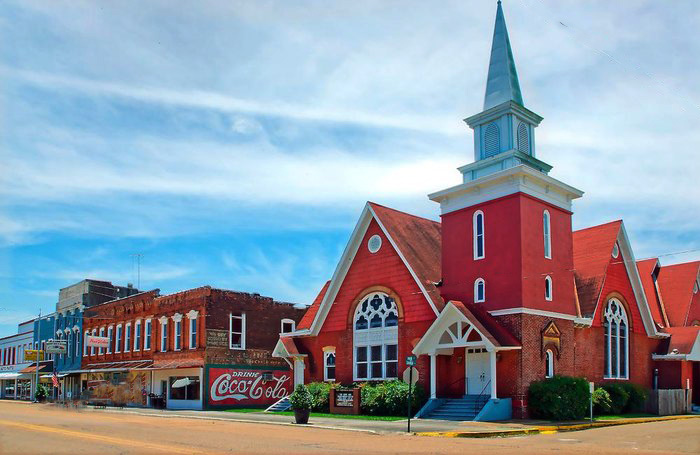 Water Valley looks like a vintage postcard or like it was carved out of the movie Pollyanna. It is a place that I'm proud to call my new home.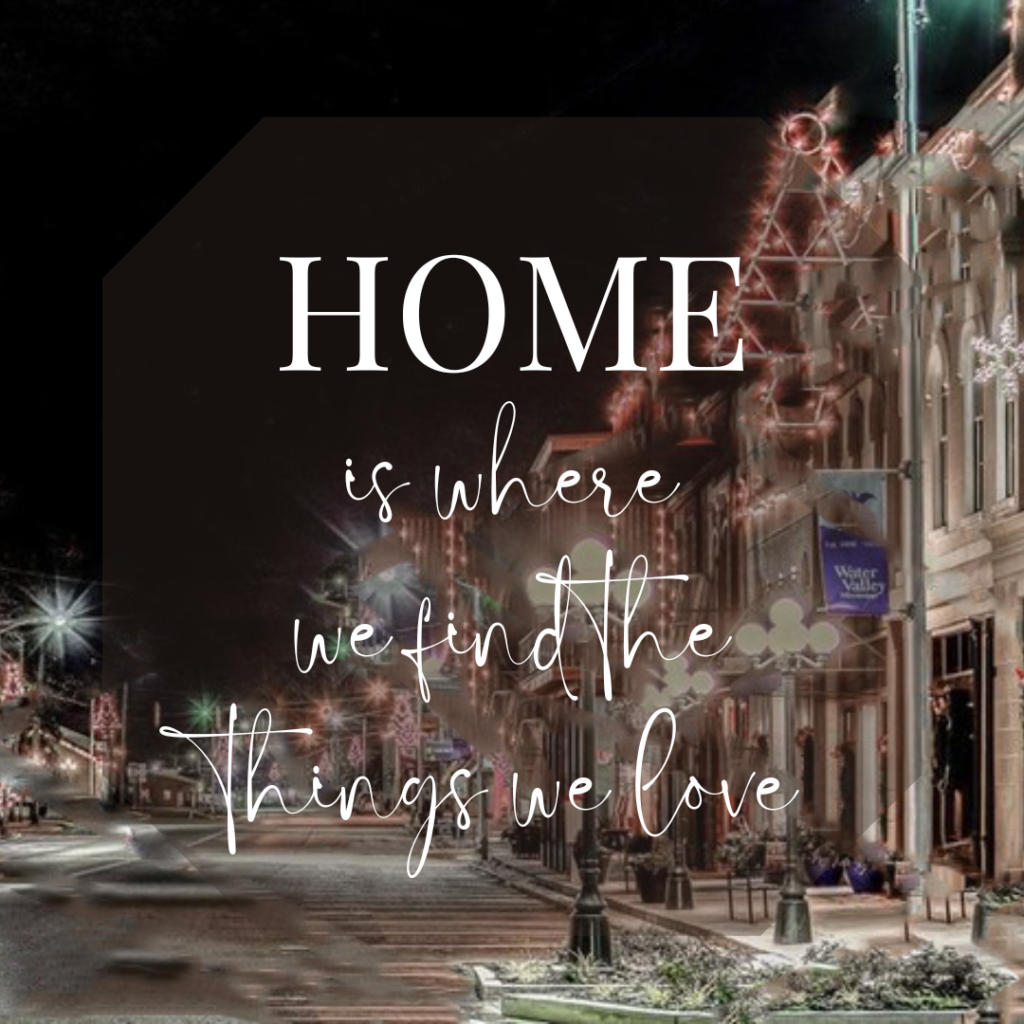 "Home is where we find the things we love"
Here is the nougat of truth about why I love Water Valley Mississippi: It is a town filled with people like me.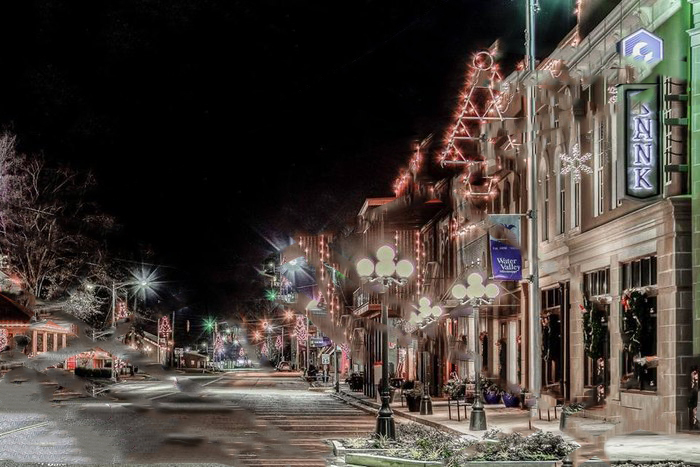 Like many other quaint, small towns, Water Valley looks like a magical fairyland at Christmas time.
But unlike many small communities, Water Valley caters to people who look for magic all year long, and that's why I'm calling Water Valley my Home.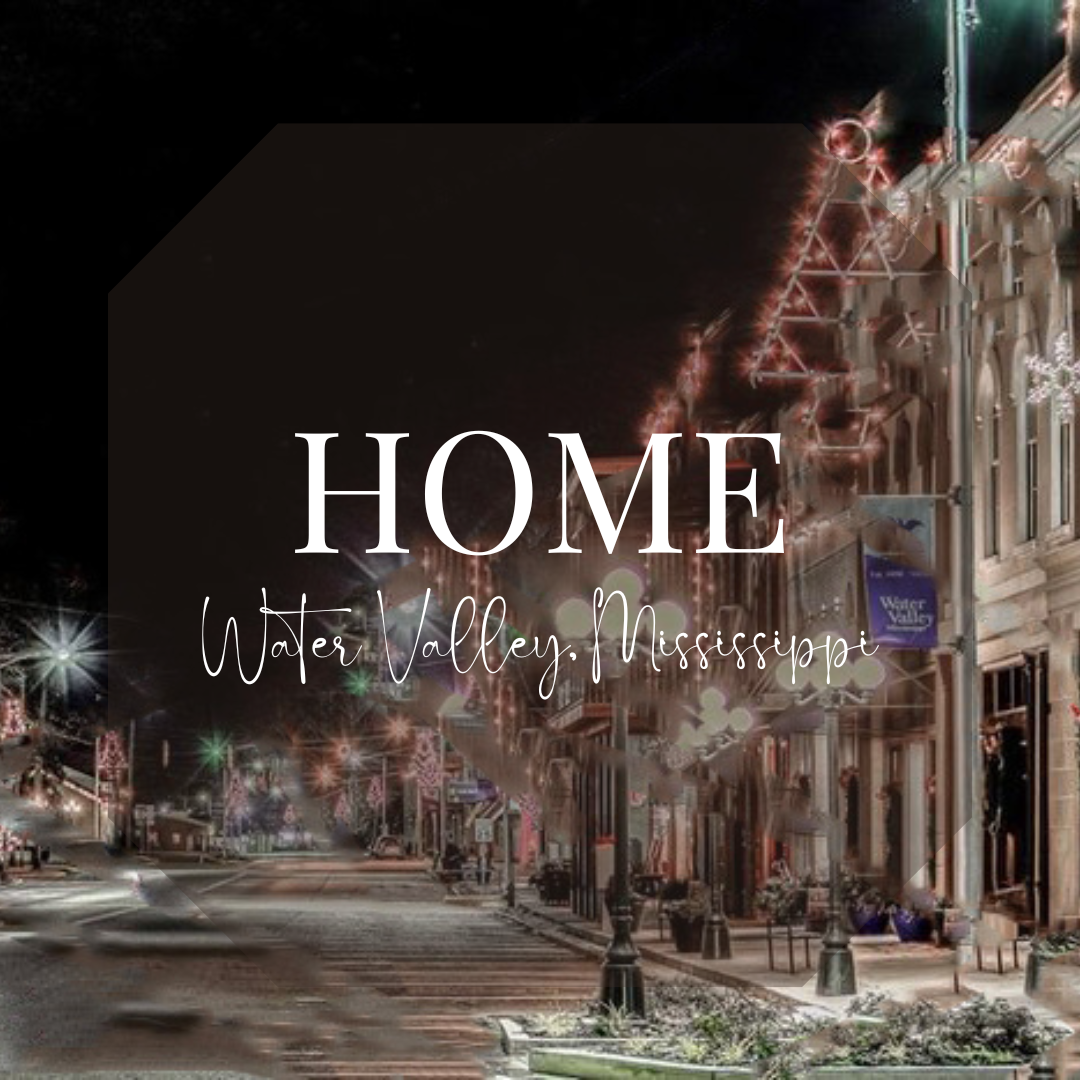 Image Credit Ole Miss
Scott, Jonathan. "UM Again Named Among 'Great Colleges to Work for' – Ole Miss News." Ole Miss News, 26 July 2018, news.olemiss.edu/um-named-among-great-colleges-work.
Now, Here's some icing for my cake: Water Valley is only 20 miles away from the University of Mississippi. Like herds of other people who graduated from Ole Miss, my heart never left.
Several of my sorority sisters still live in Oxford, MS. It will be great being near them again, and I have other friends and family in Oxford, too. I'm especially looking forward to that reunion and to tailgating with them at Ole Miss football games.
Save my place. I'm coming home.