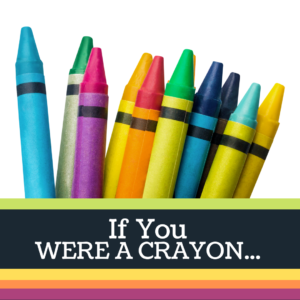 Memoir Mondays Free Writing Prompt for September 24, 2022:
If You Were A Free Crayon, What Color Would You Be? Why?
Note: As I marvel at all the wonderful names that the Crayola Company has devised to name its various sticks of color, I am reminded of the importance of being specific when we write. After all, brown is not always the same color as mahogany, and mahogany is not the same color as tumbleweed. Beginning tomorrow, we'll begin writing some descriptive paragraphs for our journals. To write the description, it is essential to scrutinize what you see in the world and to BE SPECIFIC when you describe those things.
To summarize, your writing assignment for today is to decide exactly which crayon color you are and then, you should write why that is your color. If you are a pink person, are you tickle me pink, carnation pink, razzle dazzle rose, wild strawberry, or some other pink?  Why? One way to specify which color you ARE is to specify which color you are NOT. Why?
It's Not That Easy Bein' Green
"It's not that easy bein' green
Having to spend each day
The color of the leaves
When I think it could be nicer Bein' red or yellow or gold Or something much more colorful like that
… 
It's not that easy bein' green
It seems you blend in With so many other ordinary things And people tend to pass you over 'Cause you're
not standing out
Like flashy sparkles in the water Or stars in the sky
…
 

But green's the color of spring

And green can be cool and friendly likeAnd green can be big like an oceanOr important like a mountain or tall like a tree
… 

When green is all there is to be
It could make you wonder why But why wonder, why wonder? I am green and it'll do fine It's beautiful and I think it's what I wanna be."
Songwriters: Joseph G Raposo
Bein' Green lyrics © Jonico Music Inc., Jonico Music Inc
riting is about the WHY of things. Writing is not just a list of facts. It is a descriptive song of specifics and WHY you selected those specifics. This week, we'll write some specific descriptions.
Jenny Crowther has a great website where she has listed every name of the Crayola crayons. What's more, she has listed the hex numbers for each color. Web designers should love those hex numbers.
Crowther, Jenny. "Complete List of Current Crayola Crayon Colors." Jenny's Crayon Collection, www.jennyscrayoncollection.com/2017/10/complete-list-of-current-crayola-crayon.html. Accessed 18 Sept. 2022.
Colors in the Crayola Crayon  Box of 8
Colors in the Crayola Crayon  Box of 16
Colors in the Crayola Crayon  Box of 24

Colors in the Crayola Crayon  Box of 32
Colors in the Crayola Crayon  Box of 64
blue, black, brown, green, orange, red, violet (purple), yellow
carnation pink, blue green, blue violet, red orange, red violet, white, yellow green, yellow orange
apricot, bluetiful, cerulean, gray, green yellow, indigo, scarlet, violet red
cadet blue, chestnut, melon, peach, sky blue, tan, timberwolf, wisteria
burnt sienna, cornflower, goldenrod, granny smith apple, lavender, macaroni and cheese, mahogany, mauvelous, olive green, purple mountains' majesty, raw sienna, salmon, sea green, sepia, spring green, tumbleweed
(ONLY IN 64 BOX AND HIGHER) asparagus, bittersweet, brick red, burnt orange, forest green, gold, magenta, periwinkle, orchid, pacific blue, plum, robin's egg blue, silver, tickle me pink, turquoise blue, wild strawberry


Colors in the Crayola Crayon  Box of 96

Colors in the Crayola Crayon  Box of 152
http://www.jennyscrayoncollection.com/2017/10/complete-list-of-current-crayola-crayon.html