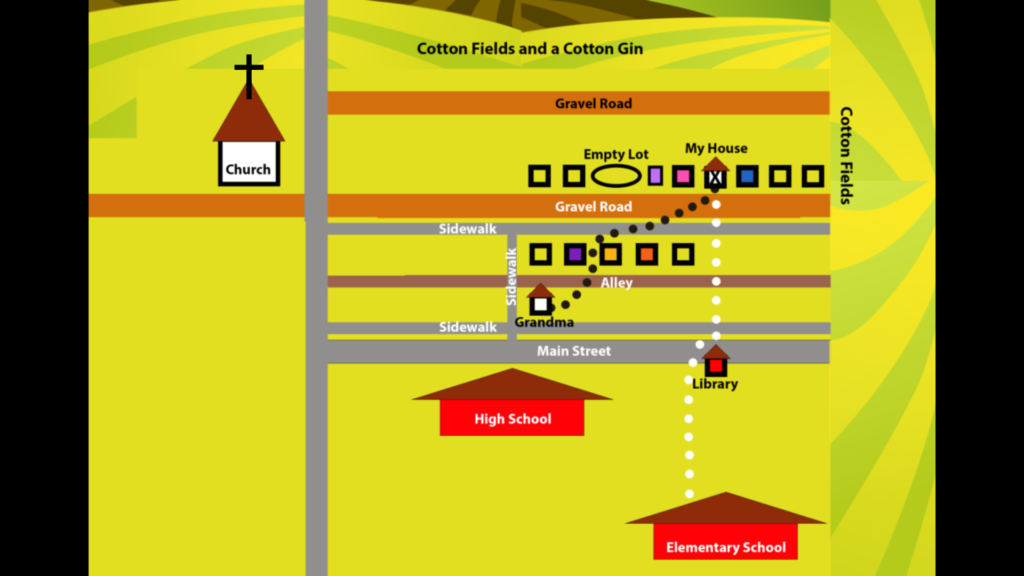 This is a map of the neighborhood where I lived as a child. For today's Monday Memoirs entry, I want you to draw a similar map of your childhood neighborhood in your journal.
Part A: Memoir Monday Map Assignment: Your map does not need to be perfect. I drew my map on a computer, and I used Photoshop's shapes, which tend to be perfect. I'll be sketching my map in my journal, too. My journal sketch will NOT be perfect. Feel free to just make a quick sketch of your neighborhood. I am creating a composition book journal with you. [Warning: I can almost promise you that sharpie ink will bleed through your journal pages.]
I grew up in a tiny little town, and there were several houses surrounding my childhood home. Some of you grew up in more rural areas–like somewhere along XYZ highway or down a plain gravel road. You should still be able to draw a map showing the places en route to your home. Pretend you are telling someone how to get to your house. What landmarks would they note along the way?
Part B of this Assignment:
List the spots on your map that were particularly important to you, when you were a child.
Part C of this Assignment:
Jot down a few thoughts about why each of these spots was important to you. Why do you still remember these spots today?
When I talk about my childhood, I often say that I grew up in the middle of a cotton field, and while that is an exaggeration, I could definitely see cotton fields from my house. At that time, during the 1950s, growing cotton was the only industry in my town. In several ways, cotton fields played an important part in my childhood. When I was young, I even picked cotton. Without a doubt, cotton was of vast importance in my childhood.
I have written a long post that discusses each of the spots on my map, but I won't share all of those details now. I can summarize by saying that I agree with Alfred Lord Tennyson, "I am part of all that I have met…." And furthermore, I met the most important of those parts when I was a tiny child.
Here Is My List of the Places in My Neighborhood That Were Important to Me [I could write a book about each item on this list]:
Gravel Road – When I was a child, my house sat on a gravel road.
Empty Lot – Memories of freshly mown grass during the spring, softball games, and hours of creating clover chains
My grandparents lived on the street next to my childhood home. My grandmother sat in the living room window every morning and every afternoon and watched me pass, when I walked to and from school.
Schools – When I was a child, I walked about 2 blocks to reach my schools.
Library – There was a tiny, tiny library about 2 blocks from my childhood home. When I was a child, I checked out Chicken Little over and over again. One more point here–I was an adult before I was exposed to a wide variety of picture books. That changed my life. I have no doubt that the fact that I had not experienced picture books as a child impressed me immeasurably.
My little Baptist Church was about 3 blocks from my childhood home. We usually drove there, but during the summer, I walked there, and the scent of old-fashioned roses filled the air along that route.  There were no sidewalks where I lived, and I always arrived at Bible School with dew-drenched shoes or toes that were poking from my sandals. Please allow me to add that my debut picture book The Donkey's Song sprang out of my childhood experienced in my little Baptist Church.