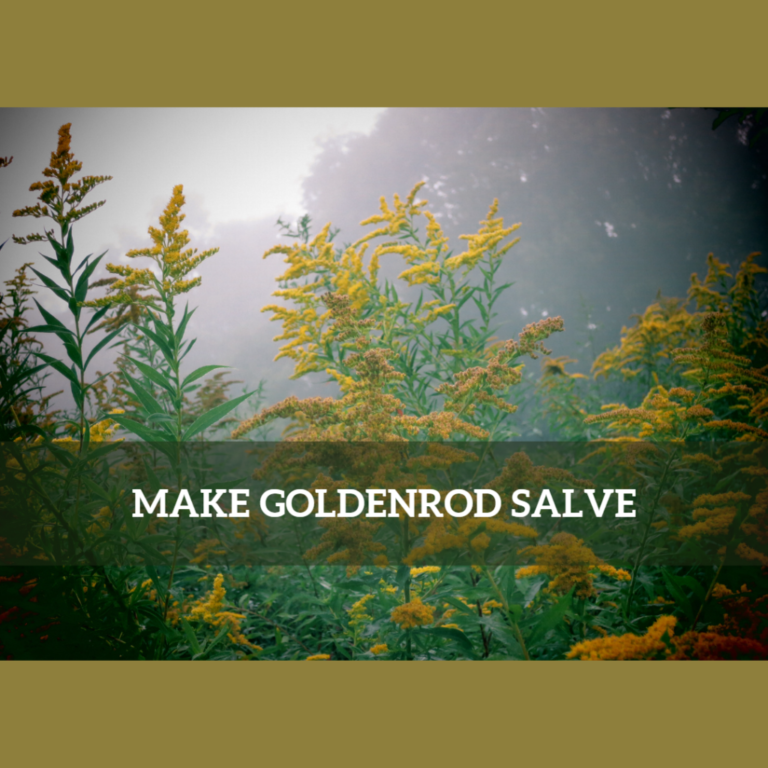 Goldenrod has long been considered as a medicinal herb. Since I have moved to a house in Mississippi with a field of goldenrod growing behind it, I have decided that this fall, I'll try making goldenrod salve. Following is a recipe for making herbal salves:
How to Make Goldenrod Salve
"Goldenrod is such a lovely plant! If you live in zone 7, you can expect Goldenrod to be blooming on the side of the road, highways, ditches, or in gardens from September-Early November. God specifically designed for this plant to bloom during this time because of it's many medicinal properties. I have found personally that when we struggle with seasonal colds and respiratory illnesses, God provides multiple plants for us to use to help our bodies fend off such viruses.
"Goldenrod is a native plant to the United States and Europe and was traditionally used by Native Americans for a variety of uses. It is a wonderful plant for easing inflammation, UTI infections, joint pain, arthritis, diabetes, allergies, colds and flu, and skin conditions such as eczema. Since Goldenrod is our featured  "Herbsday" plant, I thought I would provide you with a simple DIY recipe you can use at home.
Supplies You Need to Make Goldenrod Salve
– 1/2 Cup Dried Goldenrod Flowers and Leaves
– 1 Cup Oil (such as olive oil, sweet almond oil, or jojoba oil) + A little extra
– 1/8-1/4 Cup Beeswax pellets
– Sterilized Bowls (or Jars), Saucepans, Jars, and Stirring Utensils
– Food Thermometer
– Vitamin E Oil (optional)
– Essential Oil of choice (optional)
"The first thing you need to do is infuse the Goldenrod into the oil. There are 2 methods to do this.
Method 1:
"Place the dried Goldenrod in a sterilized jar. Cover with oil of choice until the oil is 1 inch above the plant material. You don't want anything floating above the oil's surface. Shake thoroughly. Store in a dark, cool place (such as a cabinet) and shake everyday for 6 weeks.
Method 2 (Quick Method)
"Place the dried Goldenrod in a sterilized bowl or jar (that is heat resistant) and cover with 1 cup of oil. Place water in a saucepan and place the bowl/jar with the Goldenrod on top (creating a double boiler effect). Turn on your stove to low heat. Heat the Goldenrod and oil to a temperature no higher that 200 degrees Fahrenheit. Maintain this temperature for a minimum of 30 min. If you have time, let the oil infuse up to 2 hours.
"Once your oil has been infused you can move on to the next step. Creating your Salve!
1. Place 1 cup of infused oil in a sterilized bowl or jar and place it in or on top of a simmering saucepan on low heat.
2. Add 1/8-1/4 cup beeswax to the oil infusion and heat.
3. Stir occasionally with a sterilized spoon.
4. Once the beeswax has melted, you can pour the mixture into a sterilized tin or jar. If you're adding vitamin E or essential oils, you need to let the mixture cool down (but is still warm) and then add the Vitamin E and/or essential oil. Then you can place the mixture into your desired containers.
"That's it! Simple right? You can use this salve to rub on irritated skin, achy, or sore muscles. Feel free to substitute Goldenrod for any herb of your choosing!
"Always consult your Doctor or Naturalist before consuming herbs. Please do not take Goldenrod internally if you are pregnant or breastfeeding. The statements on this site are to be used for educational purposes only and have not been evaluated by the FDA and are not intended to treat, cure, or prevent any disease."
Simple DIY Goldenrod Salve – Loverly. loverly.love/diy-skincare/simple-diy-goldenrod-salve.