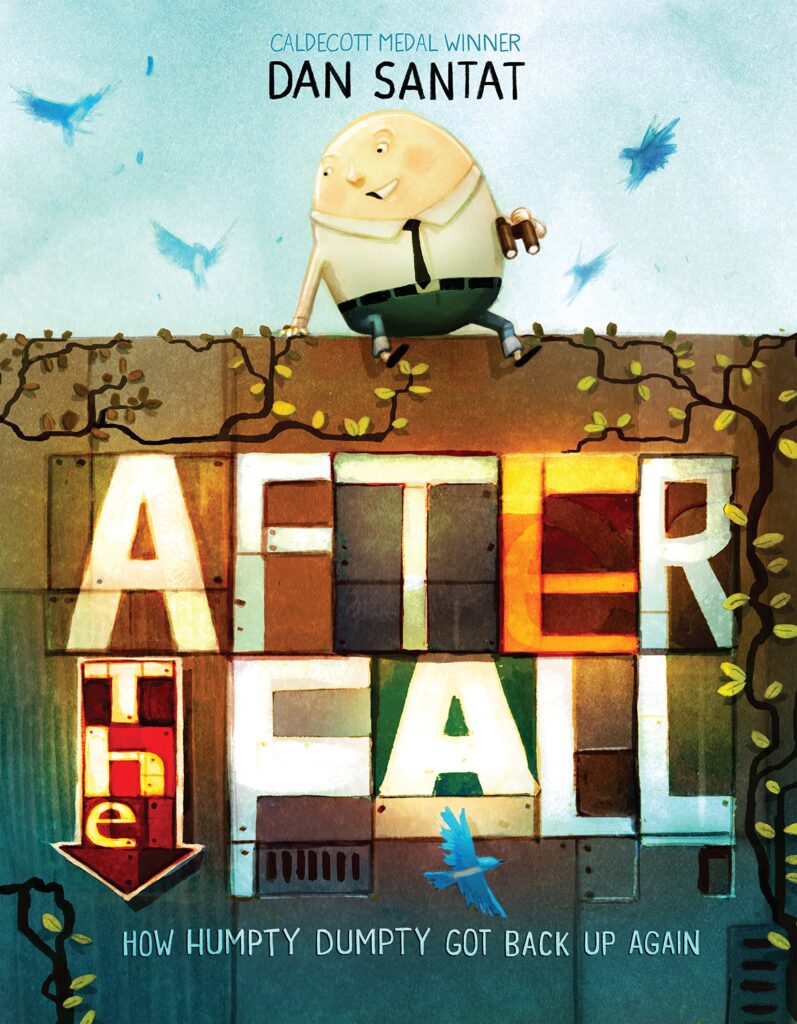 After the Fall
Dan Santat
2017 Roaring Brook Press
Caldecott Honor Book
Rated as One of the Best Picture Books of 2017 by School Library Journal
357 Words
36 Pages
The text of this book begins on page 5.
Pages 4 and 5 are a 2-page spread, with the first text page beginning on page 5.  The place where the book folds is called the gutter.
My name is Humpty Dumpty
This was my favorite spot, high up on the wall.
I know. It's an odd place for an egg to be, but I loved being close to the birds.
Then one day, I fell. (I'm sort of famous for that part.}
Folks called it "The Great Fall" which sounds a little grand.
It was just an accident. 
But it changed my life.
And that is how Humpty's story begins in After the Fall. What you might not know is that although all the King's horses and all the King's men put Humpty back together again on the outside, his fall wounded him inside–in ways that bandages could not heal. This book tells the story of Humpty's struggle to be healed.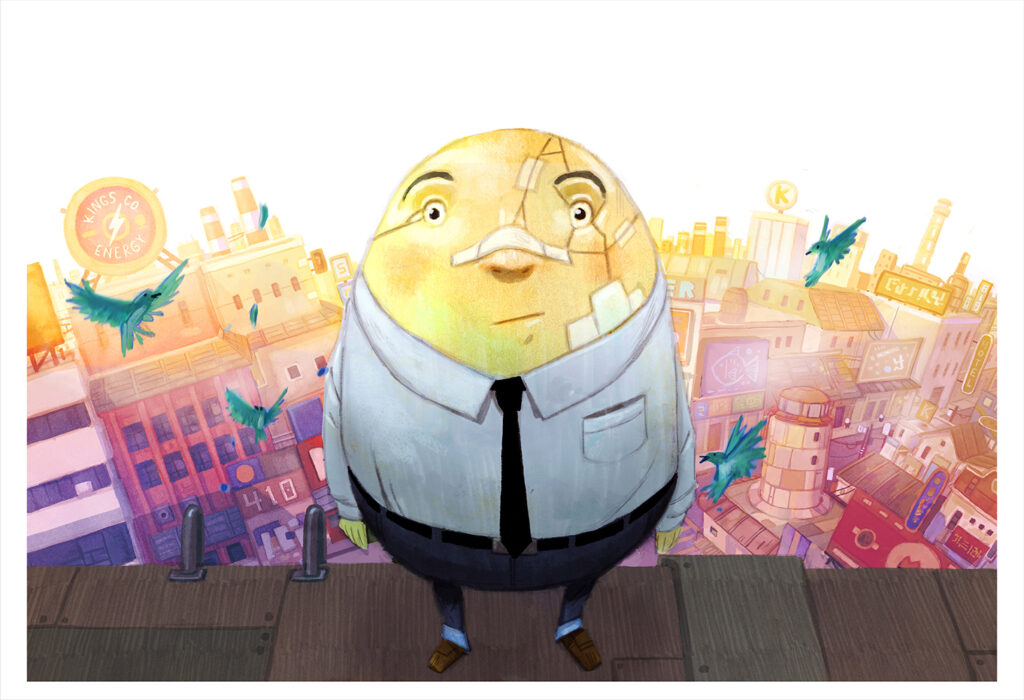 After the fall, Humpty was afraid of heights and was not able to climb back on top of his wall, and that is where he had previously enjoyed spending time, close to the birds.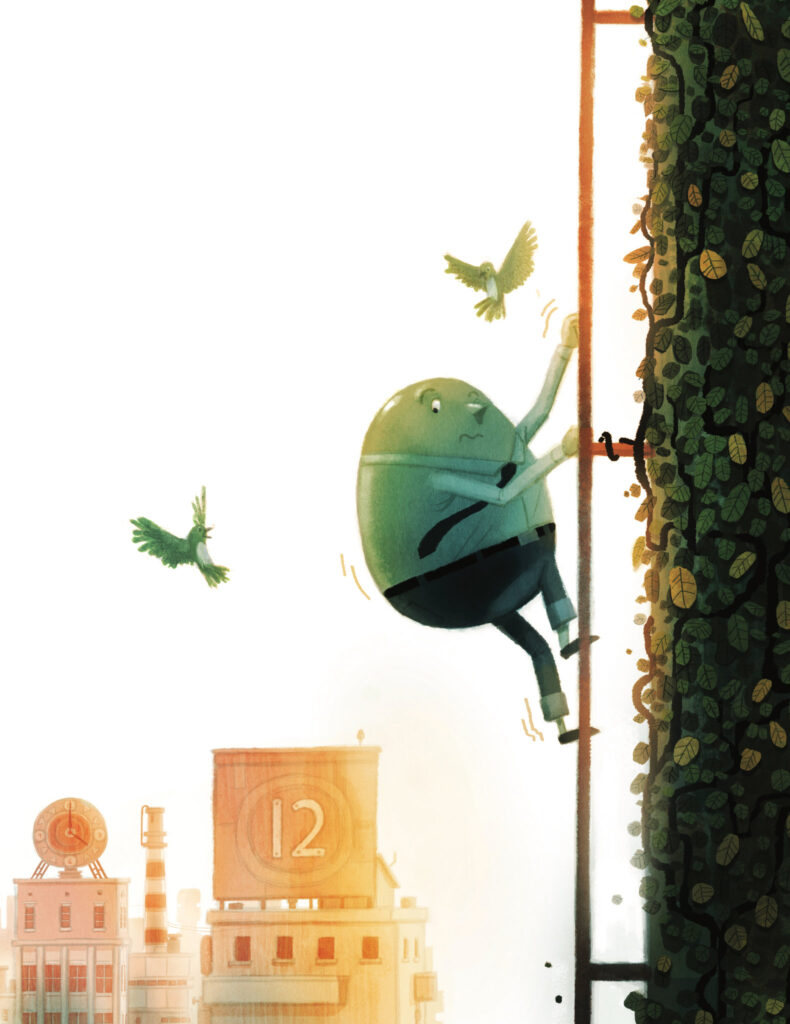 Ultimately, he took charge of his life and climbed back to the wall again, and in doing so, Humpty's character arcs.
A character arc occurs in a place within a story where the character transforms, as a result of the progression of the story.
Dan Santat both wrote and illustrated After the Fall, and he was awarded a Caldecott Honor for his illustrations.
Most of the illustrations in the book are two-page spreads.
A two-page spread is an illustration that covers both sides of two facing pages of a book.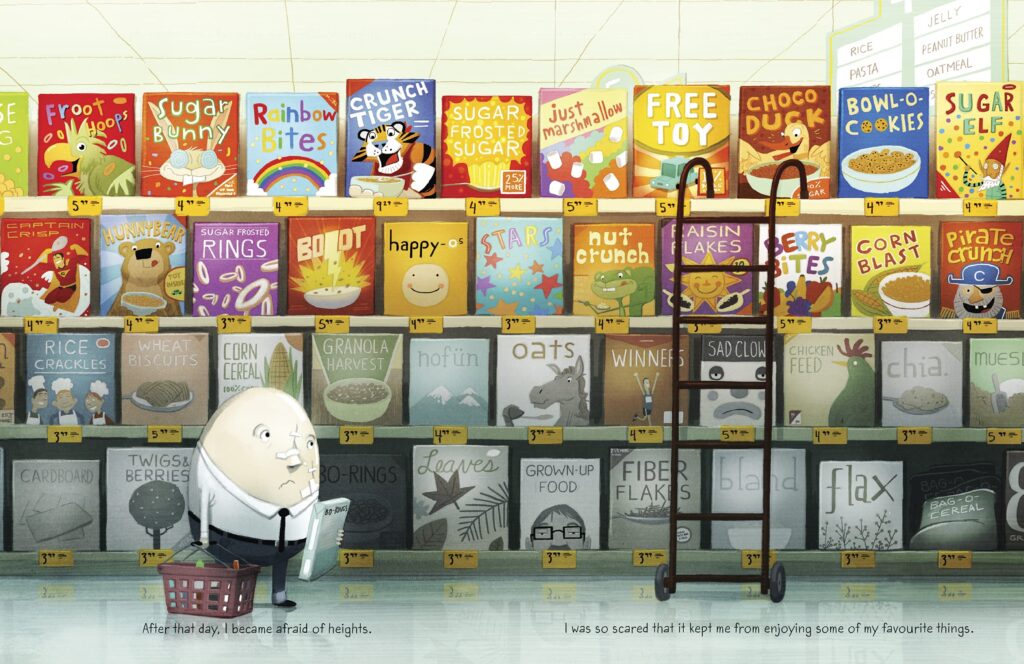 The above illustration is a two-page spread. I have super-imposed a white rectangle that shows where the page would fold into a book. That area is called the book's gutter.