The Important Thing about Margaret Wise Brown is the most beautiful and well-crafted biography that I have ever read. It is a masterpiece. Yet, I am hesitant to echo the publishing label on Amazon. I do not agree that this is a picture book for children between the ages of years 4 – 8. [that is 4-year-olds through 8-year-olds]  In a School Library Journal review, the target age is listed as grades 1-5, and I might say that this might also be a bit young. If I were asked, I would say that this is a great book for grades 4 – the rest of their lives.
Don't get me wrong: NOTHING about this book offends me. I merely think that some of the topics addressed are beyond the grasp of a 4-year-old. Some of the topics are too deep for people older than me. Thoughts such as:
"Because the truth is never made of straight lines.
Lives are strange.
And there are people who do not like strange stories,
especially in books for children."
In this picture book biography, Mac Barnett has taken on the element of society that is closed-minded, and I agree entirely with what seems to be his social view. I probably agree with his political views, too. I believe that his thoughts about closed-mindedness are appropriate to this biography. After all, Margaret Wise Brown was a victim of closed-minded people and the systems that they create. Barnett does an excellent job of shining a light on that travesty, but I'm not sure that a  4-year-old would "get" what Barnett is saying–much less care.
But I definitely got it, and I absolutely care.
Mac Barnett has employed several tools to recreate what was the reality of Brown's professional career. To be sure that I had a thorough understanding of Brown and what Barnett was saying about her, I spent several days researching Brown the woman, and Brown her books.
No doubt, the greatest tragedy is that Margaret Wise Brown died of an embolism when she was 42.
42
The age of 42 allowed her very few years to live a life, and Mac Barnett accentuates the number 42 throughout the book. He does that masterfully.
"Margaret Wise Brown lived for 42 years. This book is 42 pages long. You can't fit somebody's life into 42 pages, so I am just going to tell you some important things."
In a later part of the book, Barnett alludes to the number 42 again:
We are getting close to page 42, which is he last page of this book. When Margaret Wise Brown turns 42, she will take up her furs and her dog (Crispin Crispian, who bites) and take off on a ship, across the ocean.

This was her plan: to get married to someone she loved very much and to sail around the world.

But when Margaret Wise Brown is 42, she will die in a hospital in France.
On the page numbered 27, Barnett mentions the fact that Brown's first picture book was published on her 27th birthday.
Barnett's biography of Brown is long, and he anchors the reader via repeated allusions to page numbers. When he does that, he increases the book's energy, and he builds suspense.
Unlike most picture books, this book has numbered pages, and surely enough, the story ends on the page that is numbered 42.
If you are a writer, however, and if you are wondering how many pages this book technically has, it has  52 pages, but the book's text does not begin until page 9.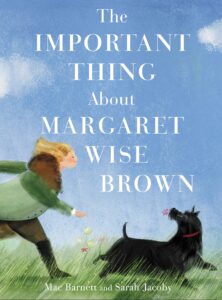 The Important Thing about Margaret Wise Brown
By Mac Barnett
Illustrated by Sarah Jacoby
Balzer + Bray (An Imprint of Harper Collins)
1804 Words
52 Pages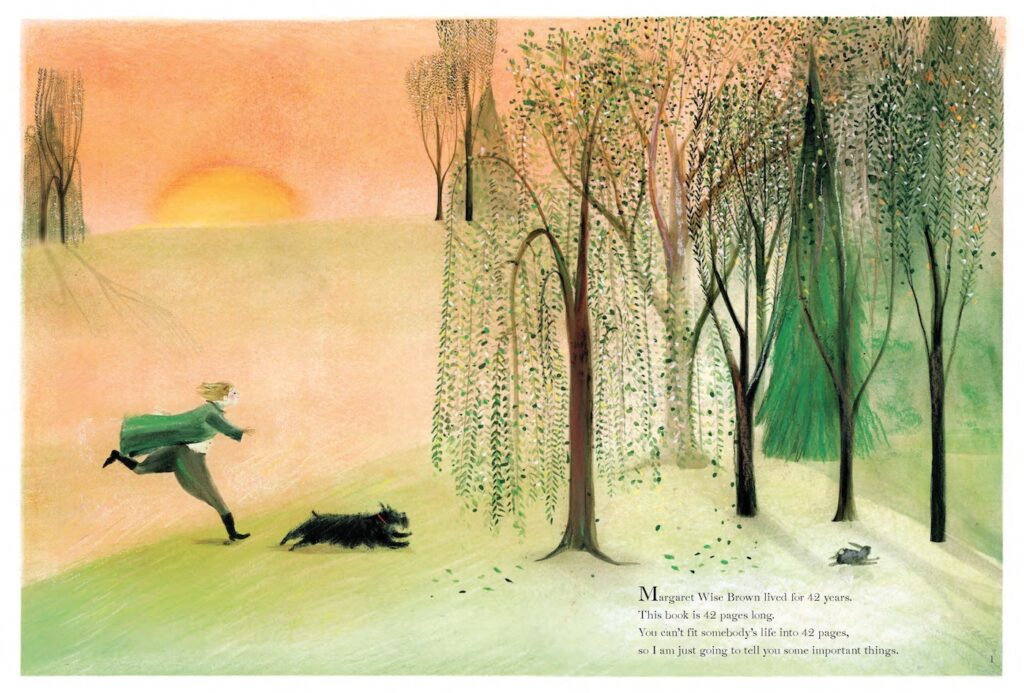 The illustrations for the book have a vintage, Mary Blair feel about them, and I believe that is deliberate. Blair would have been a prominent Disney illustrator at about the time that Margaret Wise Brown was being published.
As I said before, Barnett's biography of Brown is carefully crafted. The are several subtle gems alluded to in the text. The title The Important Thing about Margaret Wise Brown no doubt alludes to the fact that Brown wrote two picture books titled "The Important Thing," and several times in the text, Barnett repeats the words "this is important."
"Margaret Wise Brown lived for 42 years. This book is 42 pages long. You can't fit somebody's life into 42 pages, so I am just going to tell you some important things.

The important thing about Margaret Wise Brown is that she wrote books."
He repeats the word "important" again later:
"Now here is something I believe.

(I know there are only 23 pages left in this book, but it's important.)
No good book is loved by everyone,
and any good book is bound to bother somebody. . ."
I believe that it is not by coincidence that he tags as "important" his belief that any book will bother somebody. He is reiterating the essential information that Margaret Wise Brown's books were banned by some very important people and institutions throughout her lifetime. It is hard to believe now, but the New York Public Library [and also by association the ALA] rejected both Margaret Wise Brown and her books. This rejection continued for many years.
Mac uses several literary devices to paint the picture of that rejection. On the page that is numbered 35, Barnett says that Brown wasn't even allowed to enter the New York Public Library one time. Barnett accentuates this information via  a cliffhanger:
"But when Margaret Wise Brown walked up the steps to the front door, she wasn't allowed inside. (She didn't have an invitation.)
So, when people with invitations walked up to the library, do you know what they found right in the middle of the stairs?"
You must turn the page to discover the answer on page 36:
"They found two women, Margaret Wise Brown and her editor (whose name was Ursula Nordstrom), sitting there, right in the middle of the stairs, between the two lions (whose names are Patience and Fortitude), having a tea party of their own."
These two lions become another of Brown's brilliant literary devices. Several pages earlier, he had mentioned the lions in the same breath that he introduced the tenacious [lion-like] New York Public Librarian Anne Carroll Moore, who is undoubtedly the villain of this book. The following  is also an example of foreshadowing:
"The New York Public Library
is guarded by two stone lions on the steps out front.
And the Children's Room was guarded by Anne Carroll Moore."
I could just go on and on about Mac Barnett's craftsmanship in writing the book The Important Thing about Margaret Wise Brown, but if I did so, this post would be more than 52 pages long.
Obviously, I recommend that anyone who is considering writing a picture book biography needs to study this book. I'm certainly glad that I did.
Read the following to begin to understand some of the complexities of Margaret Wise Brown. She was not at all ONLY the writer of a famous book about a granny-like rabbit who is rocking in a green bedroom. Rather, she was an East-Coast jet-set socialite who bent many rules:
Picture Books by Margaret Wise Brown – Listed in the Order of Their Publication