Map of the 100 Acre Wood in Winnie the Pooh
Nature is often called The Wood in British literature
"Beyond the Wild Wood comes the Wild World," said the Rat. "And that's something that doesn't matter, either to you or to me. I've never been there, and I'm never going, nor you either, if you've got any sense at all."
― Kenneth Grahame, The Wind in the Willows
"He was glad that he liked the country undecorated, hard and stripped of its finery. He had got down to the bare bones of it, and they were fine and strong and simple."
― Kenneth Grahame, The Wind in the Willows
"In silence they landed, and pushed through the blossom and scented herbage and undergrowth that led up to the level ground, till they stood on a little lawn of a marvellous green, set round with Nature's own orchard-trees—crab-apple, wild cherry, and sloe."
― Kenneth Grahame, The Wind in the Willows
"Late in the evening, tired and happy and miles from home, they drew up on a remote common far from habitations, turned the horse loose to graze, and ate their simple supper sitting on the grass by the side of the cart. . . . [The] stars grew fuller and larger all around them, and a yellow moon, appearing suddenly and silently from nowhere in particular, came to keep them company. . . ."
― Kenneth Grahame, The Wind in the Willows
Nature has been an important theme for writers since antiquity, but the idea of nature as an idyllic sanctuary became vastly important during the era of Romanticism.
The above video is a quick overview of the ideas that came together to form the Romantic viewpoint.
Among those ideas is the theme of Nature as a pure, almost religious essence.
Numerous writers, painters, and musicians were influenced by Romanticism. The Hudson River School of painters were especially influenced by Romanticism's view of Nature.
In 1819, the book Rip Van Winkle was published and in 1820, The Legend of Sleepy Hollow was published.  Washington Irving writing in these two books is like reading a Hudson River painting. I'll look at both of those books in my Looking at Lit Online Book Club.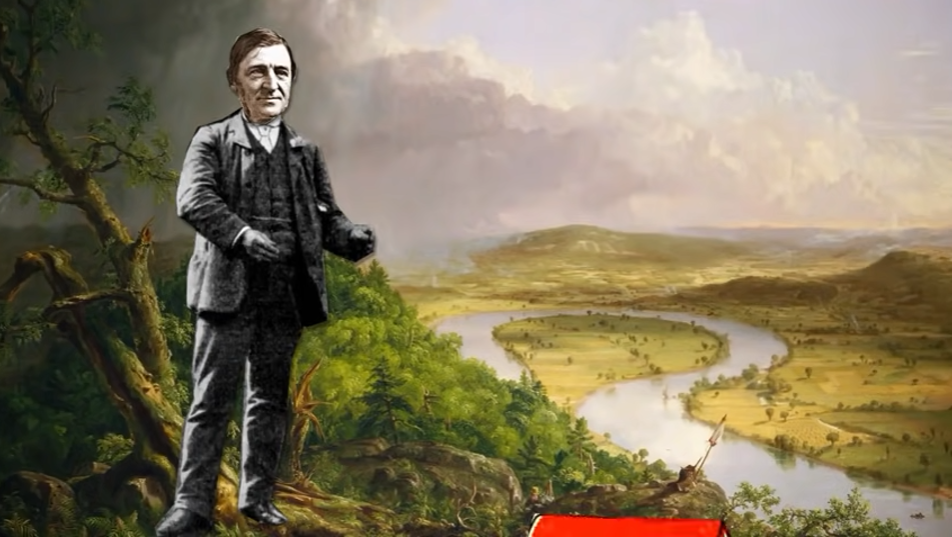 Ralph Waldo Emerson's Nature was published in 1849, and it could be called the manifesto of the idea of nature's importance to the human spirit.
"The happiest man is he who learns from nature the lesson of worship"
― Ralph Waldo Emerson, Nature
"But if a man would be alone, let him look at the stars. The rays that come from those heavenly worlds, will separate between him and vulgar things."
― Ralph Waldo Emerson, Nature
"Have mountains, and waves, and skies, no significance but what we consciously give them, when we employ them as emblems of our thoughts?"
― Ralph Waldo Emerson, Nature
"In the presence of nature, a wild delight runs through the man, in spite of real sorrows. Nature says, — he is my creature, and maugre all his impertinent griefs, he shall be glad with me"
― Ralph Waldo Emerson, Nature
"In the presence of nature, a wild delight runs through the man, in spite of real sorrows. Nature says, — he is my creature, and maugre all his impertinent griefs, he shall be glad with me"
― Ralph Waldo Emerson, Nature
"In the woods, we return to reason and faith. There I feel that nothing can befall me in life,—no disgrace, no calamity, (leaving me my eyes,) which nature cannot repair."
― Ralph Waldo Emerson, Nature
"Nature, in its ministry to man, is not only the material, but is also the process and the result. All the parts incessantly work into each other's hands for the profit of man. The wind sows the seed; the sun evaporates the sea; the wind blows the vapor to the field; the ice, on the other side of the planet, condenses rain on this; the rain feeds the plant; the plant feeds the animal; and thus the endless circulations of the divine charity nourish man."
― Ralph Waldo Emerson, Nature