Tomorrow, I'll begin moving to my new, 125-year-old house in the Ozark Mountains. Yesterday, I was wandering around in my new front yard, and I paused for a moment beside the huge, old tree, where the daffodils are blooming,
I knelt low, and I couldn't help but notice that my big, old tree has a fresh batch of Miss Maple's Seeds. 
Both Eliza Wheeler and Lois Ehlert are author-illustrators who have created important picture books about the birth, the growth, and the reseeding of maple trees.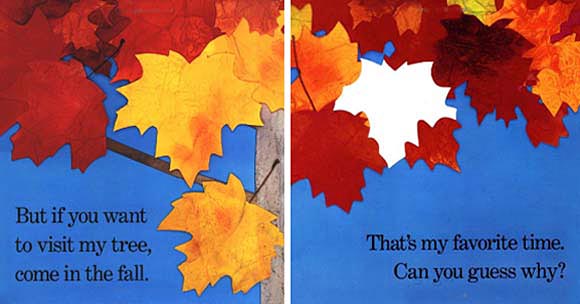 In fact, Lois Ehlert's Red Leaf, Yellow Leaf was published long before Miss Maple's Seeds was published, and Ehlert's book Leaf Man also alludes to the maple trees' winged seeds.
But Ehlert's picture book Red Leaf, Yellow Leaf is more of an excellent nonfiction book about the growth of maple seeds, and Wheeler's Miss Maple's Seeds is more of a story about the same.
Regardless, when I saw the clusters of winged seeds hanging from my very ancient tree yesterdat, my first thoughts were about Miss Maple and her seeds.
Quite honestly, I didn't know that maple trees got as big as my new, old tree. I don't think that I would have guessed that my tree is a maple, but the winged seeds are a giant clue.
The story of Miss Maple's Seeds begins in August when the winged seeds are being scattered into the wind.
Miss Maple prepares for the arrival of the new maple babies, and then she cares for them and prepares them.
Miss Maple's Seeds is a delightful story about the outdoors, but it also suggests something about how parents take care of their children and shelter them as they grow, only to bow out and watch them eventually sail away.
Miss Maple's Seeds is also about the arduous task of growing up.
As I near the end of this post, I want to recommend both Lois Ehlert's Red Leaf, Yellow Leaf, and Eliza Wheeler's Miss Maple's Seeds.  Both of these books are great, but I also want to share something about how having taught children most of my life and how having also been a children's librarian for years has created within me a person who has learned to see nature as a beautiful story.
I can't think of any better way than that to have lived my life, and now, as I am writing and illustrating my own stories for children, I am acutely aware of what is a truly memorable story for children and what is not.
Every picture book author and/or illustrator would be well-served by spending years sharing great books with kids. In my case, teaching and having been a children's librarian is what has made me who I am.
Harrison, Arkansas, Is A Haven
for People Who Love Maple Trees
Final Note: I currently live in Harrison, AR, which is in the heart of the Ozark Mountains.  I'm not sure why or when it began, but Harrison is a haven for people who enjoy watching maple trees grow and change through the seasons. During the autumn, the entire town of Harrison is ablaze with every color imaginable–all topping the town's maple trees.
I am almost certain that the maple in my front yard is a sugar maple. I anticipate that it will flush in golden tones this fall.
But I am also planting a couple of varieties of red maples in my backyard.
I am planting at least one Bloodgood red maple in my backyard this year.