March Is Women's History Month
And I want to dedicate my celebration of Women's History to the women who paved the way for those of us other women who are currently working in the field of picture-book creation.
Little Miss Muffet – An Illustration by Kate Greenaway
During the 19th Century, illustration was primarily a male-dominated field. Yet, Kate Greenaway became a celebrated female illustrator during that time.
"Catherine Greenaway…was an English Victorian artist and writer, known for her children's book illustrations. She received her education in graphic design and art between 1858 and 1871 from the Finsbury School of Art, the South Kensington School of Art, the Heatherley School of Art and the Slade School of Fine Art. She began her career designing for the burgeoning holiday card market, producing Christmas and Valentine's cards. In 1879 wood-block engraver and printer, Edmund Evans, printed Under the Window, an instant best-seller, which established her reputation. Her collaboration with Evans continued throughout the 1880s and 1890s. The depictions of children in imaginary 18th-century costumes in a Queen Anne style were extremely popular in England and internationally, sparking the Kate Greenaway style." Wikipedia
While Kate Greenaway was British, Jessie Wilcox Smith was American.
"… Smith attended the Philadelphia School of Design for Women (now Moore College of Art and Design)[8] and in 1885 attended the Pennsylvania Academy of the Fine Arts (PAFA) in Philadelphia under Thomas Eakins' and Thomas Anshutz' supervision.[5][9][10] It was under Eakins that Smith began to use photography as a resource in her illustrations. Although Eakins' demeanor could be difficult, particularly with female students, he became one of her first major influences.[10] In May 1888, while Smith was still at the Pennsylvania Academy, her illustration Three Little Maidens All in a Row was published in the St. Nicholas Magazine. Illustration was one artistic avenue in which women could make a living at the time.[5]" Wikipedia
"According to an article printed by The New York Times in 1910, Smith made about US$12,000  ($333,300 today) per year[33] and, like Norman Rockwell and J. C. Leyendecker, became as popular as a "media star".[34] Smith was particularly known for her illustrations and advertising posters of children and women, which appealed to millions of people.[35]. . ." Wikipedia
Beatrix Potter was also British, and she was also quite successful, both in writing and in illustrating. "Potter wrote thirty books, the best known being her twenty-three children's tales. … She studied book illustration from a young age and developed her own tastes, but the work of the picture book triumvirate Walter Crane, Kate Greenaway, and Randolph Caldecott, the last an illustrator whose work was later collected by her father, was a great influence.[41] When she started to illustrate, she chose first the traditional rhymes and stories, "Cinderella", "Sleeping Beauty", "Ali Baba and the Forty Thieves", "Puss-in-boots", and "Red Riding Hood".[42] However, most often her illustrations were fantasies featuring her own pets: mice, rabbits, kittens, and guinea pigs.[43]" Wikipedia
Florence White Williams was another American illustrator, but she was not nearly as prolific and as successful as the other ladies that I have mentioned previously. My main reason for mentioning Williams is that her book The Little Red Hen is one of the few children's books that I read, as a child. "Born in Putney, Vermont, she attended the Chicago Academy of Fine Arts, now known as the School of the Art Institute of Chicago. Williams illustrated classic children's stories, as well as magazines like Child Life, the Christian Science Monitor, Little Folks, and St. Nicholas Magazine." Wikipedia
"Verna Norberg  [Aardena] was born in New Era, Michigan. She graduated from Michigan State University with a B.A. in Journalism in 1934. She worked as a grade-school teacher from 1934 to 1973…
"In 1960, she published her first set of stories, Tales from the Story Hat which were very successful, and so she continued to adapt traditional tales and folklore from distant cultures, (usually from Africa and Mexico) to expose young children to the vast variety of human expression.
"Her book, Why Mosquitoes Buzz in People's Ears (1975), illustrated by Leo and Diane Dillon, received the Caldecott Medal in 1976 and the Brooklyn Art Books for Children Award in 1977."
While I do love the story of Why Mosquitoes Buzz in People's Ears,  it is the art that most drew me to this picture book. I must say that Aardema shares this spot on my list with the Dillons; I did not list the Dillons separately here because they were a male-female team, and this post is celebrating only female contributors. But please allow me to say this, loud and clear, the Dillons rank among my favorite illustrators of all time.
"Barbara Cooney…was an American writer and illustrator of 110 children's books, published over sixty years. She received two Caldecott Medals for her work on Chanticleer and the Fox (1958) and Ox-Cart Man (1979), and a National Book Award for Miss Rumphius (1982). Her books have been translated into 10 languages.[1]
"For her contribution as a children's illustrator, Cooney was the U.S. nominee in 1994 for the biennial, international Hans Christian Andersen Award, the highest international recognition for creators of children's books.[2][3]" Wikipedia
"Marcia Joan Brown… was an American writer and illustrator of more than 30 children's books.[1] She has won three annual Caldecott Medals from the American Library Association, and three Caldecott Medal honors as an illustrator, recognizing the year's best U.S. picture book illustration,[2] and the ALA's Laura Ingalls Wilder Medal in 1992 for her career contribution to children's literature.[3] " Wikipedia
I have said this before, but when I was a child, I had access to very few picture books. Honestly, I totally missed Barbara Cooney and Marcia Brown. By the time that I was an adult and discovered the enormity of the picture book world, the illustrations of both Cooney and Brown were a bit outdated, and I essentially disregarded them in favor of newer books.  A Chair for My Mother, by Vera B. Williams, is one of the first picture books that blew me away at that time. I love the color of the book. I love the book's message about the common people who were living in inner-city America. [Having grown up in the rural South, that life was foreign to me.] I love the borders that play around the pages of the book. I love everything about A Chair for My Mother. It was one of the first books that convinced me that I needed to create picture books.
"Vera Baker Williams… was an American children's writer and illustrator. Her best-known work, A Chair for My Mother, has won multiple awards and was featured on the children's television show Reading Rainbow.[1] For her lifetime contribution as a children's illustrator, she was U.S. nominee in 2004 for the biennial, international Hans Christian Andersen Award, the highest recognition available to creators of children's books.[2] Additionally, she was awarded the 2009 NSK Neustadt Prize for Children's Literature.[3]" Wikipedia
Like The Little Red Hen, Chicken Little is one of the few picture books that I remember from my childhood. My tiny library had this version of Chicken Little as it was illustrated by Marjorie Hartwell. To most of the world, Hartwell is almost unknown now. Yet, this book influenced me, and I am mentioning it here.
Lois Ehlert's books are so very bold that I have trouble realizing that she was born in 1934. Ehlert illustrated through the medium of collage, and her collage materials included things from her garden, leaves, strings, and other non-paper things, as well as all types of paper and cardboard. Ehlert was from Wisconsin. The first Ehlert book that caught my attention was Fish Eyes. The simplicity of that book amazed me, and I became a lifelong enthusiast of Lois Ehlert.
"Ehlert won the Caldecott Honor Book in 1990 for Color Zoo and won a Publishers Weekly Best Book of the Year for Snowballs. Ehlert became the Booklist Editors' Choice for Cuckoo/Cucú: A Mexican Folktale/Un cuento folklórico Mexicano. She also was awarded the IRA Teachers' Choice and NCTE Notable Children's Trade Book in the Language Arts for Feathers for Lunch and received the American Library Association Notable Children's Book and Boston Globe-Horn Book Award for Chicka Chicka Boom Boom.[8] She received an Honorable Mention from the National Outdoor Book Award (Children's Category) in 2005 for Leaf Man, which was also awarded the Boston Globe-Horn Book Award in 2006.[9][10]" Wikipedia
Before today, I had not fully realized how very under-represented the African Americans have been as leaders in the creation of children's literature.  In one regard, I knew that to be true, but on another level, I did not fully realize this fact. I am actually embarrassed to admit this, but the fact became abundantly clear to me today, as I reviewed the women who have greatly influenced the creation of picture books for at least 100 years. I did, however, recall the books created by Virginia Hamilton. Because most of Hamilton's books are anthologies or collections of stories, I almost saved her for another post, but I remembered how much I loved her picture book The Girl Who Spun Gold. Again, I must admit that I love the illustrations that the Dillons created for this book, too, but I am happy to be able to pay tribute to Virginia Hamilton, who was another prolific writer.
"She wrote 41 books, including M. C. Higgins, the Great (1974), for which she won the U.S. National Book Award in category Children's Books[1] and the Newbery Medal in 1975.[2]
Hamilton's lifetime achievements include the international Hans Christian Andersen Award for writing children's literature in 1992[3][4] and the Laura Ingalls Wilder Award for her contributions to American children's literature in 1995.[5]" Wikipedia
Jane Yolen was a prolific writer in several different genres, and like Cooney and Marcia Brown, I sort of missed her. But in the overall field of children's literature, Yolen's  influence was immense. "During the 1960s, Yolen held editorial positions at various magazines and publishers in New York City, including Gold Medal Books, Routledge Books, and Alfred A. Knopf Juvenile Books. From 1990 to 1996 she ran her own young adult fiction imprint, Jane Yolen Books, at Harcourt Brace.[1] Although Yolen considered herself a poet, journalist and nonfiction writer, she became a children's book writer." Wikipedia
Although Patricia Polacco was born and reared in Michigan, her family roots were that of the Russian/Ukrainian Jewish culture. My favorites of her books have to do with her tales of her Babushka [grandmother].  I love her use of ethnic design. I discovered Polacco on Reading Rainbow, which featured her book Rechenka's Eggs.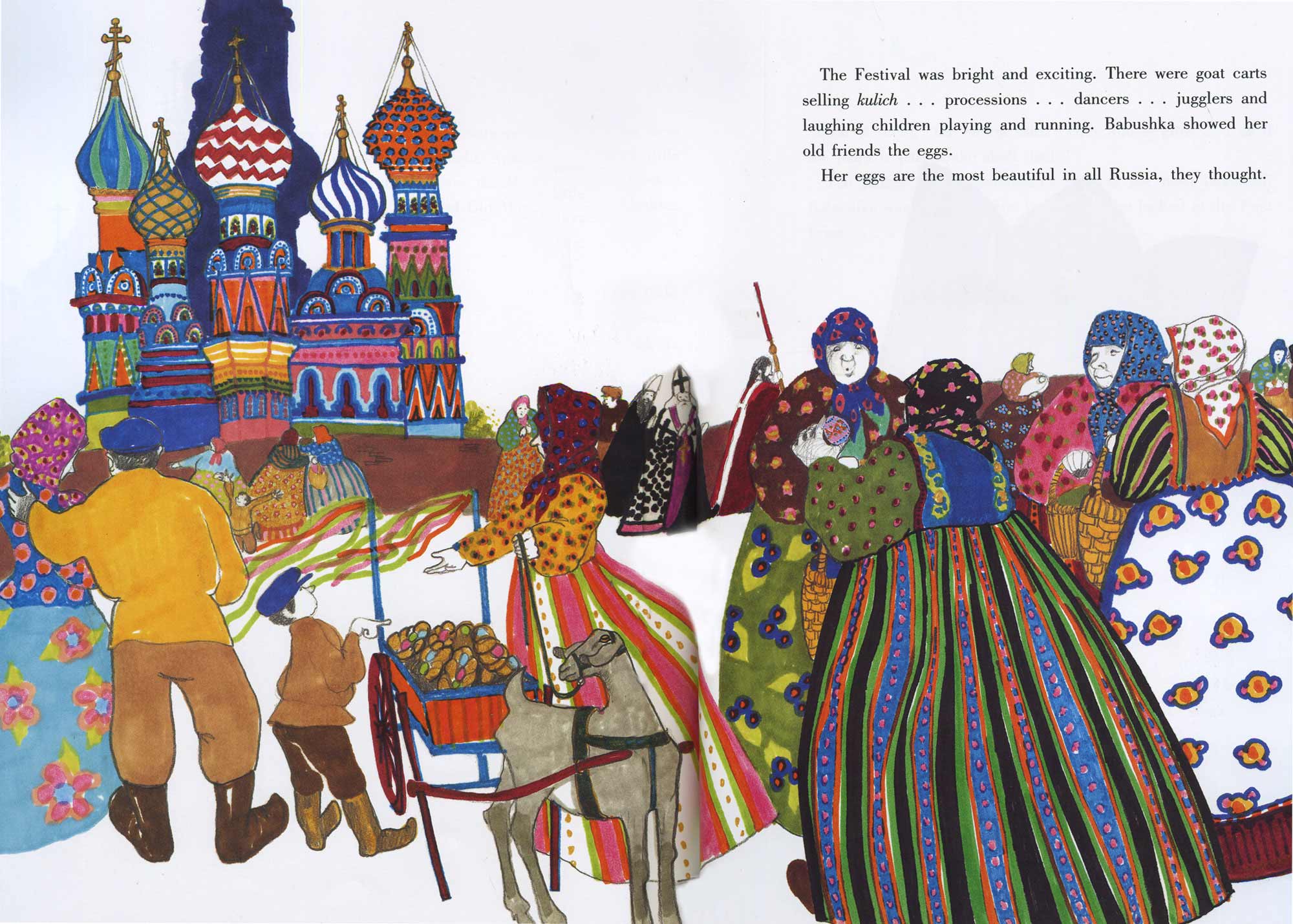 Jan Brett is another master of ethnic design, and when I discovered her books, I was amazed at the intricacy of her illustrations and borders.  Brett has always shared a vast variety of teaching resources to accompany her books, too. Every time that I look at Jan Brett's website, I am stunned by her work ethic.
"Her colorful, detailed depictions of a wide variety of animals and human cultures range from Scandinavia to Africa. Her titles include The Mitten, The Hat, and Gingerbread Baby. She has adapted or retold traditional stories such as The Gingerbread Man and Goldilocks and has illustrated classics such as "The Owl and the Pussycat". Wikipedia
Cynthia Rylant is another prolific American author, and like several other authors that I have mentioned, her writing has been honored with several awards. My favorite of Rylant's books is her picture book The Relatives Came, which is a perfect depiction of life in Appalachia at the time of her childhood. Because I grew up in much the same way and at much the same time as Rylant, I am quite sure of her veracity and of her expertise as a storyteller. Rylant spent most of her childhood in West Virginia. Like many of us in this field, she has also served as a Children's Librarian.  Because I am actually four years older than Cynthia Rylant, I'll finish Part 1 of my tribute here. But rest assured that I have merely touched the surface of the huge number of talented ladies who are working in children's literature.
All-in-all, my purpose in this post is to recognize the ladies who I feel have paved my own way as a picture book author, and above all else, I want to say thank you to all these people.