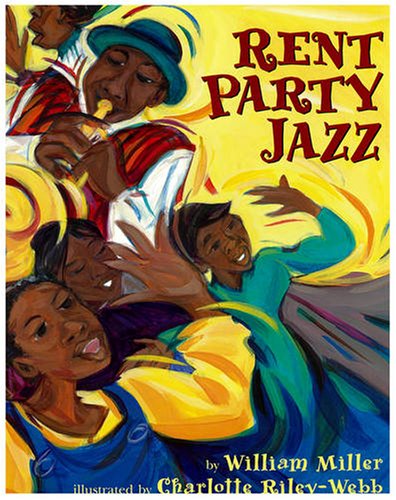 Rent Party Jazz
William Miller
Illustrated by Charlotte Riley-Webb
Lee & Low Books, 2001
"In New Orleans in the 1930s, young Sonny Comeaux has to work before school to help his mother make ends meet. When Mama loses her job, Sonny is worried. Rent day is coming soon, and if they miss paying by just one day, the landlord will put them out on the street and sell off their belongings.
"Sonny wanders sadly through Jackson Square after school one day. His attention is caught by Smilin' Jack, a popular jazz musician. Sonny returns day after day, and soon finds himself explaining his problem to Smilin' Jack. What Smilin' Jack offers Sonny then—how to raise money for the rent while having the world's best party—changes both their lives forever." Lee & Low Books
"Rent Party Jazz." Lee & Low Books, www.leeandlow.com/books/rent-party-jazz. Accessed 19 Feb. 2023.
Feast on this video. Viola Davis Performs Rent Party Jazz.