"McKinley Morganfield was never good at doing what he was told. Especially when it came to playing in the mud. His mamma should've been mad. But she couldn't hep but laugh, 'Ah, my muddy baby. My sweet, muddy baby.'
McKinley's mama gave him a life. And a laugh. And then she was gone. Forever.
'Oh, child. Long gone. Oh, child. Sail on.'
"But Mckinley did have Grandma Della.
She scooped him up and tried to keep him clean and finally just started calling him Muddy.
"And he had music. Muddy loved the 'SAY IT WITH ME!' voice of the preacher: and the 'GLORY! GLORY! ' singing of the choir: But the music Muddy really loved, they didn't play on Sundays.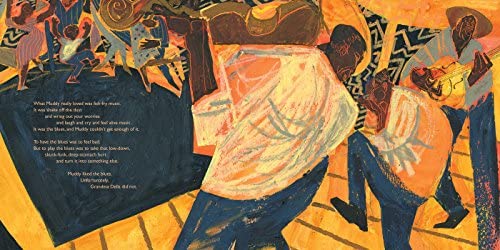 "What Muddy really loved was fish-fry music.
It was shake off the dust and wring out your worries and laugh and cry and feel alive music.
It was the blues, and Muddy couldn't get enough of it.
"To have the blues was to feel bad.
But to play the blues was to take that low-down, skunk-funk, deep-stomach hurt and turn it into something else.
Muddy liked the blues.
Unfortunately, Grandma Della did not.
"'Last I checked, you can't eat the blues for breakfast,' said Grandma Della. 'No child of mine is gonna waste his time with music.'
"But Muddy was never good at doing what he was told."
Mahin, Michael, and Evan Turk. Muddy: The Story of Blues Legend Muddy Waters. Atheneum Books for Young Readers, 2017.
Muddy: The Story of Blues Legend Muddy Waters
By Michael Mahin. Illustrated by Evan Turk.
"Born McKinley Morganfield, the great bluesman Muddy Waters went from a poor Mississippi Delta childhood to the center of the Chicago music scene. Shifting his color palette for each setting of Muddy's life, Turk captures the legendary musician's proud originality with his own dazzling virtuosity on the page, incorporating materials including old newspaper clippings, printer's ink and paint." The New York Times
Times, The New York. "The Best Illustrated Children's Books of 2017." The New York Times, 2 Nov. 2017, www.nytimes.com/2017/11/02/books/review/best-illustrated-childrens-2017.html.