02 Dec

Trees Are Rooted Men – Herman Hesse & Other Philosophers on Trees – How and Why I Painted the Tree at Boxley Valley in the Ozark Mountains

Posted at 10:37h

in

Arkansas

,

Art Is Therapy

,

Barns

,

Bootheel of Southeast Missouri

,

Cotton

,

Expressive Brushstrokes

,

Farms

,

Herman Hesse

,

Home

,

Jacki Kellum Memoir

,

Jacki Kellum Watercolor

,

Landscape Painting

,

Learn to Paint with Bold & Vibrant Color

,

Nature

0 Comments

I believe that many years ago I read the words: "Trees are Rooted Men." On the other hand, I may have simply imagined that quote. Regardless, I often see the human form within the structure of a tree, and in many of my supposedly simple landscape paintings, there is an element of the human reflected through a tree or two that I have spotted on one trip or another into nature. Let me try to explain that by telling you about 4 of my paintings with trees.
One Ditch: A Fishing Hole Back Home – Jacki Kellum Watercolor
I have many memories from my childhood growing up in the Bootheel of Southeast Missouri. Some of my remembrances are pleasant, but some of them are rather haunting. My painting One Ditch is about some of my thoughts about my past. In another post, I wrote:
"When I was a child, I was surrounded for miles by cotton fields, cotton gins, and the dark, rich soil that the Mississippi River had deposited there in earlier years. Because the Bootheel of Southeast Missouri is the flood zone of the Mississippi River, the soil is so very rich that hardly any of it is wasted on trees. Occasionally, you might see a narrow line of vegetation, crossing the terrain, but that would probably be on the banks of one of the small creek-like waterways that were long ago dug there to catch the river, should it flood again.
"Collectively, the waterways around home were called The Floodways. Individually, each of the bodies of water had one of the following less than illustrious names: One Ditch, Two Ditch, Three Ditch, etc. That is the truth.  During the 1950s and 1960s, there wasn't a lot of effusiveness or ornamentation about Southeast Missouri, but it was enough. In fact, it was more than enough, and in many ways, I'd give anything to get back to the Gideon of my childhood again, but that playground is gone in every way but that of my mind." – Jacki Kellum
As I noted in the previous passage, the land in the Bootheel is extremely flat and almost free of any trees at all. When I remember looking out across the endless miles of farmland back home, I am often reminded of Salvador Dali's painting The Persistence of Memories.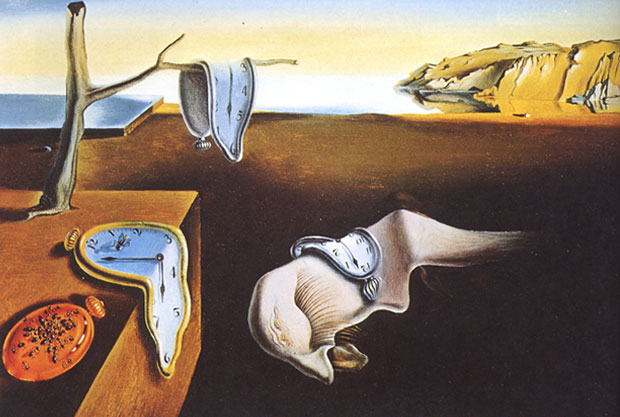 Salvador Dali – The Persistence of Memory
Dali's painting of an eerie landscape of clocks reminds me of the surrealistic quality of looking out across an almost barren Bootheel field. [When the fields are not planted, the soil is virtually barren]. The essence of this memory for me is almost one of withered isolation, and that is what I tried to capture in the dried twig in my painting One Ditch. The twig in that painting is like a parched human spirit that is alone and barely hanging on in a vast and empty field. Honestly, that describes one side of my personality. It is not what most people see in me but regardless, it is there.
On a recent trip to Boxley Valley, which is near Ponca, Arkansas, I spotted the interesting tree in the above photo, and that tree tells an entirely different type of story. Although the barn is old and withered in the above photograph, the scene is not barren. The grass is green, and the tree has green leaves. Light seems to be rising out of the ground. If the above tree were a person, he would seem to be reaching his large arm out and around the barn. The tree is sheltering the above barn, and the sheltering, nurturing nature of the above tree gives me a good and warm feeling, and that is what I tried to capture in my painting Barn at Boxley Valley.
Barn at Boxley Valley – Jacki Kellum Watercolor
I love what the German painter, author, and philosopher Herman Hesse had to say about the humanness of trees [Incidentally, I found this passage after I wrote this blog post. It is uncanny how well Hesse had long ago expressed my rather vague set of feelings]:
"For me, trees have always been the most penetrating preachers. I revere them when they live in tribes and families, in forests and groves. And even more I revere them when they stand alone. They are like lonely persons. Not like hermits who have stolen away out of some weakness, but like great, solitary men, like Beethoven and Nietzsche. In their highest boughs the world rustles, their roots rest in infinity; but they do not lose themselves there, they struggle with all the force of their lives for one thing only: to fulfil themselves according to their own laws, to build up their own form, to represent themselves. Nothing is holier, nothing is more exemplary than a beautiful, strong tree." Herman Hesse
I cannot tell you how very much that I agree with what Hesse has to say about trees. About 35 years ago, I had a farm in Mississippi. Part of the land was pasture, and my thoroughbred horses skipped and kicked up their heels on the grasses there, but the part of my land that I loved most was the forested area in the back. Because my woodlands touched a protected forest behind it, my wooded acres seemed to stretch forever, but I found a small clearing in those woods. The clearing was in a dry creek bed, and I placed an old folding chair there and left it for my repeated returns there for solace. Until I sold my farm in Mississippi, that spot was where I felt sheltered from the world. It was where I went to have my spirit replenished. That spot was my sanctuary.
Most often, when I sat beneath the ancient hickory trees that were planted around that folding-chair-spot, I felt that the trees themselves-the elders–had woven their arms around me, and that I was comforted in their embrace. Old and Gothic, the walls of my sanctuary stood tall. The fingers of the trees were laced together above my head and during the autumn, the sun peered through leafy limbs. The colors of the leaves framed by the blackened branches were like stained glass windows. When I sat beneath my trees, I typically felt that no place was more peaceful than mine, but one autumn day, I sat there and watched a storm gather and whip through the golden leaves above me. Suddenly, all of the wise, old men writhed and raised their arms and shook their fists toward the sky. Afterward, they swayed from side to side. That day, my trees were angry preachers, and then, they became prophets. I have always felt the most spiritual when I am surrounded by ancient trees.
Today I discovered the words that Herman Hesse wrote almost a hundred years ago about trees.  I wish that I had written these words myself:
"Trees are sanctuaries. Whoever knows how to speak to them, whoever knows how to listen to them, can learn the truth. They do not preach learning and precepts, they preach, undeterred by particulars, the ancient law of life.
"A tree says: A kernel is hidden in me, a spark, a thought, I am life from eternal life. . . . I was made to form and reveal the eternal in my smallest special detail.
"A tree says: My strength is trust. I know nothing about my fathers, I know nothing about the thousand children that every year spring out of me. I live out the secret of my seed to the very end, and I care for nothing else. I trust that God is in me. I trust that my labor is holy. Out of this trust I live." – Herman Hesse
I myself am growing older now. My 68 years of living are nothing compared to an old, sage tree, but I am nearer to the end now than I am to the beginning.  About 20 years ago, one of my children suggested that I sell everything and move into a high-rise condo in the city. I responded that I would rather die than do that, and I meant those words. My daughter thought that I was being melodramatic and was feeling sorry for myelfl I tried to explain by saying that I absolutely NEED a little piece of land that is my own–I NEED a yard and some trees, and high-rise condos only have metal and concrete–they have no yards and trees. I fear the day when I can no longer manage to be surrounded by nature. Nature  is essential to my soul.
A year ago, I moved to a tiny, tall place in the Ozark Mountains. The place is about the size of a condo, but it is a cabin on a hilltop and not a condo that is only accessible by a cold, steel elevator. The difference is that rather than a view of some parking lot, my little cabin has just enough garden area to plant some flowers, and there are banks of trees behind that. In my cabin on the hill, "It Is Well with My Soul."
One early morning, just after the rains had ended, I sat on my back deck, and the sun began peeking through the mist that was rising through the trees behind my house. It was almost as if a voice whispered to me: "Be still and know that I am God." The day that I photographed the above view from my porch, I wrote: "I live atop the highest hill in Harrison, Arkansas, and my back deck is 20 or 30 feet off the ground. It is as though I live in a tiny treehouse. This morning I looked out into the woods that touch my back, and I saw God. The rains had stopped and a bit of mist was rising through the trees. It was quiet. And the only words that formed in my mind were: "Be still and know that I am God." Psalm 46:10 
Listen to what Herman Hesse has to say about that feeling:
"When we are stricken and cannot bear our lives any longer, then a tree has something to say to us: Be still! Be still! Look at me! Life is not easy, life is not difficult. Those are childish thoughts. Let God speak within you, and your thoughts will grow silent. You are anxious because your path leads away from mother and home. But every step and every day lead you back again to the mother. Home is neither here nor there. Home is within you, or home is nowhere at all." Herman Hesse when
When I paint a tree, I paint a character. When I paint bodies of trees, I paint churches.
A year ago, I visited the Ozarks for the first time, and after my first drive out into the hills, I knew that I had come home. I wrote about it that day on Facebook. "There is something simply awe-inspiring about the rocks and the waterfalls and the creeks and the old, weathered farmhouses that are stretched along these Ozark hills. It seems that something is tugging at me–beckoning me home."
A month later, I moved from the East Coast to the Ozarks.
Ozarks Anywhere USA – Jacki Kellum Watercolor
Soon after I transplanted myself in the Ozarks, I painted Ozarks Anywhere USA, and someone left the following comment on Fine Art America about the painting: "Jacki, such a beautiful watercolour!…your style OWNS your subjects…there is no doubt about your colour palette and your vision. Your subject has no choice but to submit its essence to your brush and to the viewer! Authentic and masterful! Love your work!"
I treasure that person's words. I am not a terribly precise or accurate painter, but I have something else to offer my audience. I do not know the person who wrote the above words, but I am pleased that she sensed something special about my work. I am a very reflective person, and on successful days, my paintings capture my spirit–and not my precision, and in my opinion, that is what art is all about.
Note this nougat of truth: I am a fairly good photographer, and if all that I want is visual accuracy, I should stick to photography.
The above photograph is a mere snapshot that I quickly captured on my Iphone. I have better cameras than my Iphone, but I rarely have those real cameras with me. The point is that if need be, I can take EXCELLENT photos, but my art is about more than a photographic representation. My art is an expression of my life experiences–my art is about what I feel and who I am.
During my first visit to the Ozarks, I knew that I needed to move here to celebrate my final years. Like many, my life has not been easy, and I have scars to prove that. I am comforted by the words: "In Japan, they fill the cracks of broken pottery with gold and marvel at the beauty of its scars." – source unknown
And this leads me to a discussion of my painting Autumn in the Ozarks.
Autumn in the Ozarks – Jacki Kellum Watercolor
The following was said about the painting Autumn in the Ozarks on Fine Art America: "Jacki, This is exquisite.. the colors are rich and exciting.. it feels like a bracing Autumn morning … fresh, clean and magical."
In many ways, I am that old and scarred pot of clay. I have brought many of those scars upon myself. I know that I have not lived my life conventionally, and that has begun to take a toll on me. While other people were working at regular jobs and creating nest eggs and retirement funds, I was romping through the woodlands and thinking and feeling and listening and writing and seeing and painting; and now that I have reached the autumn of my life, I sort of regret my choices. At the very least, I definitely wish that I had more money to pay someone to care for me when I am ancient–but then again, I would not want to have lived my life differently.
Granted, my friends are living in vast homes and are surrounded by luxuries now, and I live in a tiny cabin on top of a hill in the Ozarks. And that speaks volumes. People do not realize that the titles of my paintings usually tell their stories. The title "One Ditch" tells a story, and so does the title "Autumn in the Ozarks." The latter title says that I have reached the autumn of my life, and I have come to the Ozarks to live until I die.
Once again, read what Herman Hesse has to say about trees and scars and dying.
"When a tree is cut down and reveals its naked death-wound to the sun, one can read its whole history in the luminous, inscribed disk of its trunk: in the rings of its years, its scars, all the struggle, all the suffering, all the sickness, all the happiness and prosperity stand truly written, the narrow years and the luxurious years, the attacks withstood, the storms endured. And every young farmboy knows that the hardest and noblest wood has the narrowest rings, that high on the mountains and in continuing danger the most indestructible, the strongest, the ideal trees grow." – Herman Hesse
With no need for elaboration, suffice it to say that I will take many of my own personal scars to my grave, and I can only hope that people will somewhere see within my ruins the tree-like rings of my life–the marks where the suffering and the sickness and the happiness and the prosperity and the beauty live forever. And if there is any chance for that to be, it will be through the words that I have written and from my art. And very simply: that is why I write and why I paint more than the photograph has the ability to see–much less, more than the ability to say.
In closing, I would like to say to all of my students:
As you begin to paint your trees, look for the people–for the souls who are living within them, and strive to paint the souls.
"So the tree rustles in the evening, when we stand uneasy before our own childish thoughts: Trees have long thoughts, long-breathing and restful, just as they have longer lives than ours. They are wiser than we are, as long as we do not listen to them. But when we have learned how to listen to trees, then the brevity and the quickness and the childlike hastiness of our thoughts achieve an incomparable joy. Whoever has learned how to listen to trees no longer wants to be a tree. He wants to be nothing except what he is. That is home. That is happiness."
― Herman Hesse, Bäume. Betrachtungen und Gedichte