27 Mar

Impressionism, Artists, and Gardening: What Is The Connection?

I wear many hats–probably TOO many hats, but I doubt if I'll ever remove my artist's hat, and I doubt if I'll ever remove my writer's hat, and I doubt if I'll ever remove my gardener's hat. Those bits of my persona are inextricably linked, and the more that I learn about artists, writers, and their gardens, I discover that I am in good company.

My favorite period of art and writing is the 19th century, and that is the era in which gardening and art seemed to officially entwine. Living in the Northeast now, I go to museums frequently, but there are far too many paintings to see, in any one day, at most of the museums here. Fortunately, I have reached the point that I know that I prefer 19th-century art, which is only a micro portion of the paintings available to see, and when I go to museums, that is where I focus my time.

Although I like 19th-century painters from several countries, I spend most of my time at museums looking at the French painters. France is where Impressionism and gardening began to merge. Because I am both a painter and a gardener, I feel a special kindredship to artists who gardened and who painted gardens and flowers.
On March 12, 2018, The Metropolitan Museum of Art in New York City opened its exhibition Public Parks, Private Gardens, and I hope to see that exhibition several times. In preparation for the exhibit, I have begun studying as much as possible about the artists that are featured in that exhibit.
Pierre-Auguste Renoir
Bouquets of Flowers
1860
"What seems most significant to me about our movement [Impressionism] is that we have freed painting from the importance of the subject. I am at liberty to paint flowers and call them flowers, without their needing to tell a story."― Pierre-Auguste Renoir

"Painting flowers is a form of mental relaxation….When I am painting flowers I can experiment with tones and values without worrying about destroying the whole painting."― Pierre-Auguste Renoir
"Nineteenth-century France was an age of garden culture….the art of the latter part of the period has a special place in the affections of garden lovers. No century before or since has given birth to a group of artists who were able to evoke the atmosphere of the garden with such lyrical probity as did the Impressionists and fresh-air patterns inspired by them.
…
"The Impressionists' gardens are alive with scents and breezes. Their rendering of grass, foliage and flowers not only transports us visually into their pictures, but imaginatively out into the open air, which itself seems to have been tinged by the radiance of the garden.
…
Pierre-Auguste Renoir
Summer Landscape
1875
"With few exceptions, the garden life depicted by the Impressionists was that of spring, summer and early autumn, warm-weather seasons in which nature and humankind are lured into closest unity of spirit and activity. It as a perfect world of sunshine and colour, where ladylike pursuits were acknowledged…" Bumpus, Judith. Impressionist Gardens, p. 5.
Camille Pissarro
Landscape near Louveciennes
1870
"The whole world is beautiful, the art is in the seeing." ― Camille Pissarro
Pierre-Auguste Renoir
Garden in the Rue Cortot
1876
"So in this painting, Monet and Sisley, exchanging words at the garden gate, are swept up and almost completely absorbed into the sylvan setting…Renoir's real subject is nature: a magnificent clump of dahlias, their luxuriant vegetation gleaming in the filtered sunlight, which fills almost half the canvas. The jewel-like quality of the flowers draws on the richness of Renoir's pigments…." Bumpus, Judith. Impressionist Gardens, p. 30.
"The Impressionists enhanced even the most uncompromising ground with a note of picturesque prettiness.
"There is a feeling of wistfulness for the moment that has passed. But the aura of perfection surrounding English work is entirely absent from the Impressionist concept of the garden. Content with the beauty of nature as they found it, the Impressionists made no obvious effort to tidy up the garden, or to present for show in the English way."  Bumpus, Judith. Impressionist Gardens, Plate 26.
Pierre-Auguste Renoir
Woman in a Garden
1873
"If you paint the leaf on a tree without using a model, your imagination will only supply you with a few leaves; but Nature offers you millions, all on the same tree. No two leaves are exactly the same. The artist who paints only what is in his mind must very soon repeat himself."― Pierre-Auguste Renoir
"What chiefly distinguished the Impressionists from English artists was the inventive manner in which they animated that 'bit' of nature. With strokes, curls, and dabs of paint applied with unconventional freedom, they treated us, characteristically to a lively, if summary, impression of the joys of the open air–a pleasant, generalized sensation of sunlight and colourat a particular time of day. Extemporary brush and, pre-eminently, colour became their key to a more lively and atmospheric naturalism. When the Impressionists moved their studios outside and set up their easels in sunny gardens, it was to borrow the brilliant palette they found there. . . Suffused colour at bright light of outdoors the individual features of flowers disappeared in a panoply of colour, within which a complexion of a rose, geranium or gladiolus, still just recognizable as such, stood ut as vivid enticements. For these artists, a spontaneous rendering, however sketchy, if made outdoors in immediate response to nature, was truer to the experience than an image assembled over a period of time. In liberating themselves from the need to accumulate precise detail on the canvas, they could concentrate all their energies on catching the intangible and constantly changing elements of light and air–the essence of outdoors."   Bumpus, Judith. Impressionist Gardens, p. 7.
Pierre-Auguste Renoir
Monet painting in his garden at Argenteuil
1873
"They worked 'before nature' in order to grasp its true character….
"…the Impressionists had no hesitation in skating over the details of garden growth in order to communicate an instant effect which would embrace, and remain true to, their first vision." Bumpus, Judith. Impressionist Gardens, p. 12.
"The richness I achieve comes from nature, the source of my inspiration. " ― Claude Monet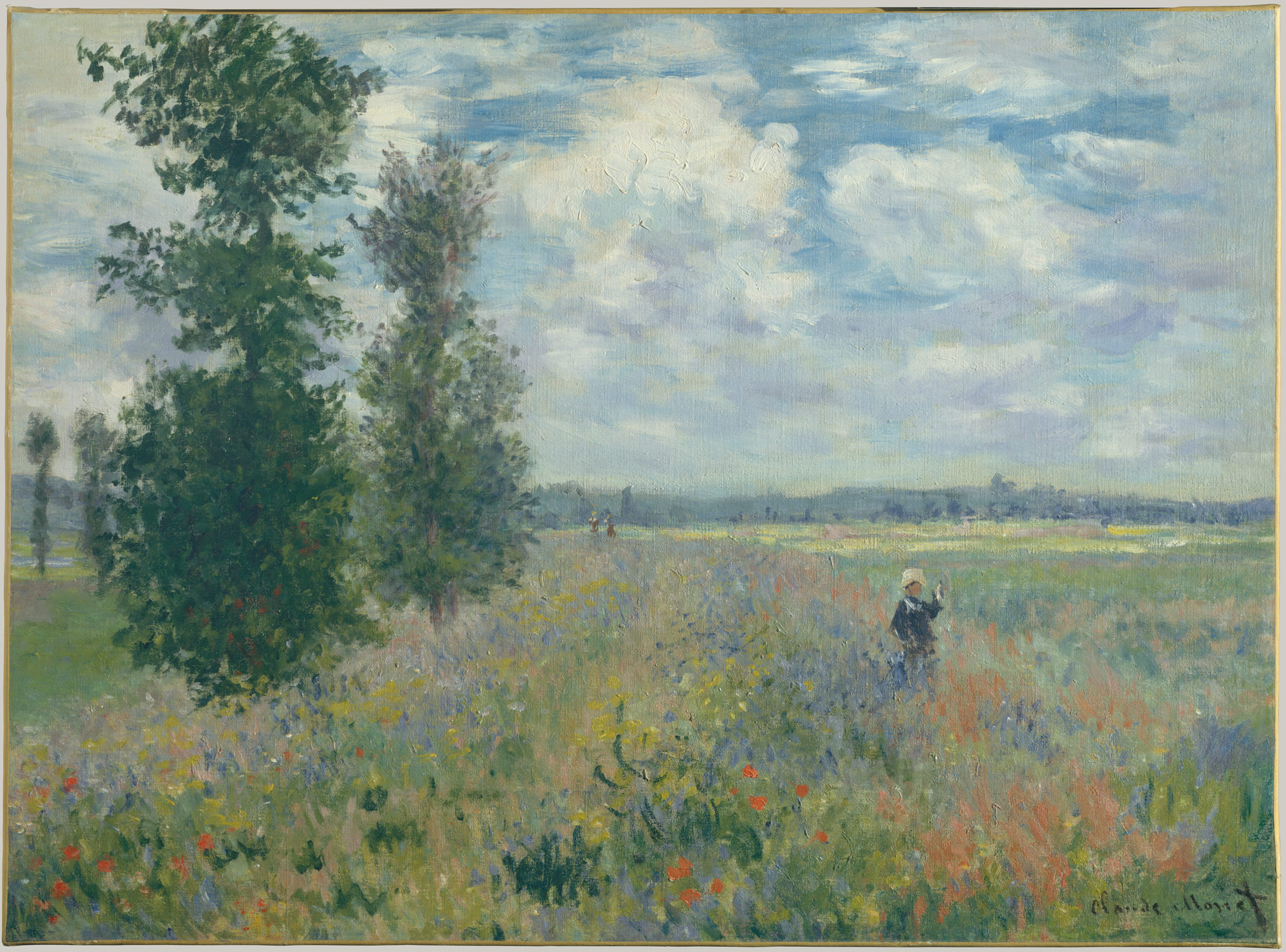 Claude Monet
Poppy Fields near Argenteuil
1875
"…Impressionist painting expressed a pervasive belief in the restorative powers of nature." Impressionist Gardens, p. 19.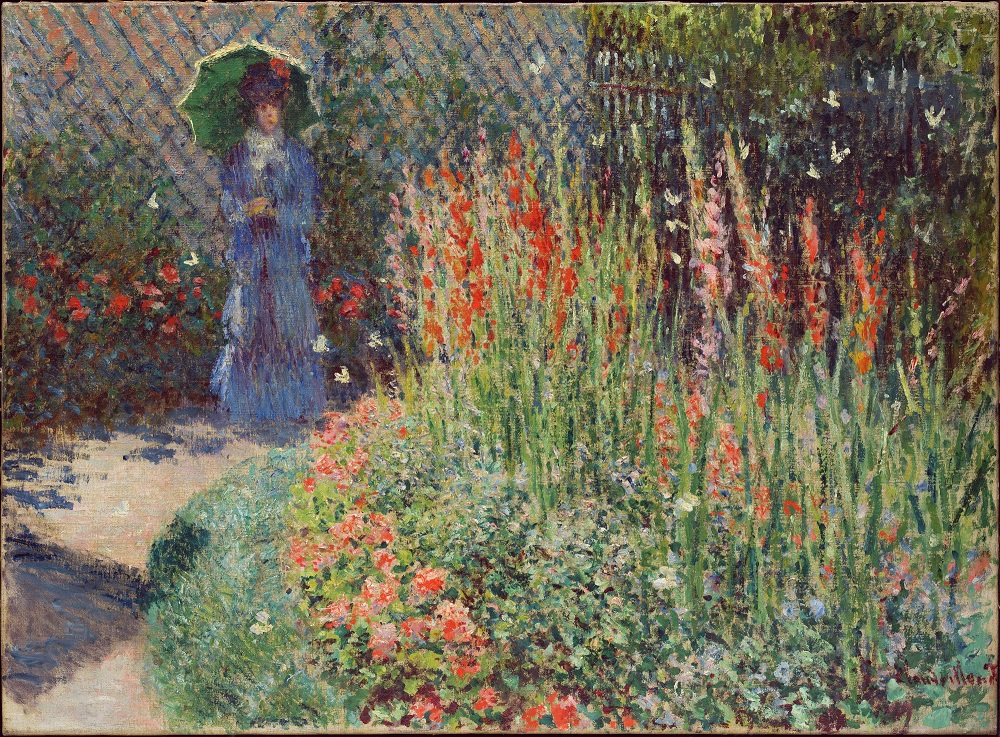 Claude Monet
Rounded Flower Bed
1876
"I must have flowers, always, and always." ― Claude Monet
Claude Monet
The Garden, Giverny
1902
"Monet once said that his only two interests in life were painting and gardens. In Giverny his enthusiasms merge for the last time in the creation of what is perhaps the most famous of all artist's gardens, now painstakingly and beautifully restored.
. . .
"His design for Giverny produced exactly the juxtapositions of colour that he craved for his art. …planted in such a way that only those flowers blossom together whose shades match, harmonize infinitely in a blue or pink expanse….
"…every available space was filled to overflowing with colour that would change from one season to the next. The canvas, too, is kept constantly alive with touches of bobbing colour. Monet has translated the individual flowers into palpitating masses, absorbed into an overall play of light and colour he was at pains to perfect."  Bumpus, Judith. Impressionist Gardens, Plate 25.
"My garden is my most beautiful masterpiece" ― Claude Monet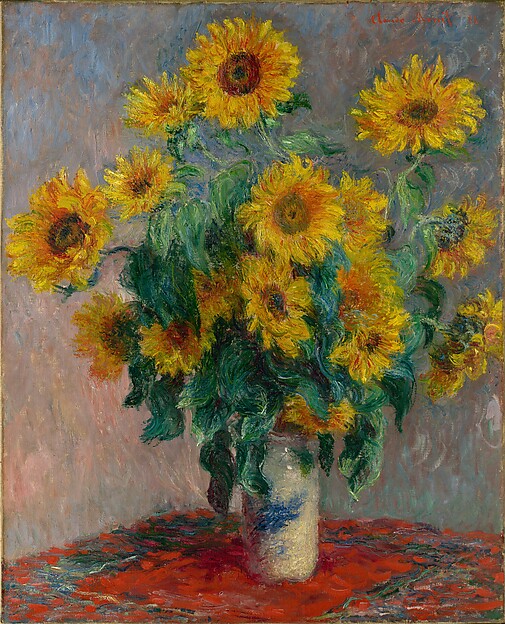 Claude Monet
Bouquet of Sunflowers
1881
"I perhaps owe having become a painter to flowers."― Claude Monet
Édouard Manet
The Monet Family in Their Garden at Argenteuil
1874
"A painter of superb floral still lifes, Manet did not enthuse about flowery gardens. His subject was figures in the open and he concentrated on trying to integrate them in a natural setting. …Compared to Monet's explosive handling of colour at this time, Manet's painting remained generally low0keyed. Camille's white dress and the accents of bright red and blue make telling moments in a garden of subdued greensand earth colours." Bumpus, Judith. Impressionist Gardens, Plate 29.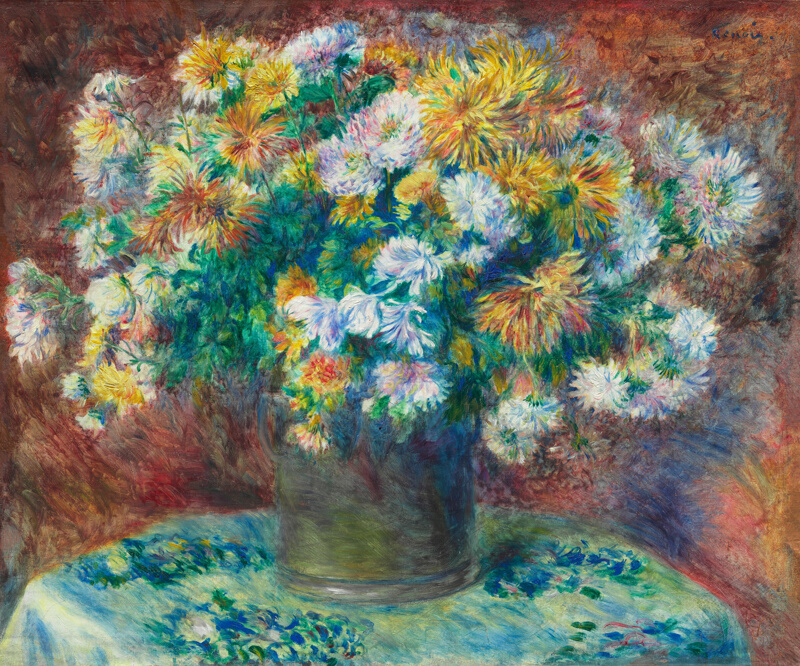 Pierre-Auguste Renoir
Chrysanthemums
1882
"Renoir painted these white and yellow chrysanthemums life-size and at speed. He clearly relished every curl of their loose and irregular, sometimes thread-like petals.' Bumpus, Judith. Impressionist Gardens, p. 34
Gustave Caillebotte
Roses in the Garden at Petit Gennevilliers
1886
"Caillebotte was one of the new bred of private gardening enthusiasts, and his devotion to cultivating the property equaled Monet's at Giverny….Close to the house he constructed a large greenhouse in which he cultivated orchids and other tender species And as at his family home, Yerres, there was a rose garden of   Petit Gennevilliers: paths and flowerbeds, masses of dahlias, roses, chrysanthemums, sunflowers, poppies, iris and hyacinth borders. On his death the painting 'still wet on the easel' was one of the garden." Bumpus, Judith. Impressionist Gardens, Plate 34.
Gustave Caillebotte
The Kitchen Garden, Yerres
1877
Camille Pissarro
The Wheelbarrow
1886
"The central image in this painting is a traditional wheelbarrow….Pissarro's countryside is an interlocking medley of kitchen gardens cabbage fields, orchards and strips for making hay. It is a terrain shared by pigs and chickens and a donkey or two, in which the labour of humans and animals blends harmoniously with the soil. Pissarro knew its reality intimately ad he described it with truthfulness and affection, in what may be partly regarded as hymn, partly as a song of toiling." Bumpus, Judith. Impressionist Gardens, Plate 36.
"Blessed are they who see beautiful things in humble places where other people see nothing"― Camille Pissarro
Camille Pissarro
The Artist's Garden at Eragny
1898
National Gallery of Art Washington DC
Camille Pissarro
The Fence
1872
National Gallery of Art Washington DC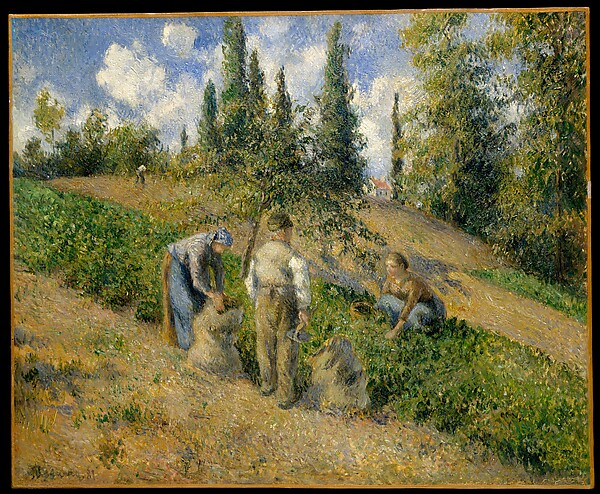 Camille Pissarro
The Harvest, Pontoise
1881
Metropolitan Museum of Art
Camille Pissarro
A Cowherd at Valhermeil, Auvers-sur-Oise
1874
Metropolitan Museum of Art
Camille Pissarro
The Harvest, Pontoise
1881
Metropolitan Museum of Art