25 Feb

Although He Painted Over 100 Years Ago, Vincent Van Gogh Is Considered As A Modern Artist
Compared to Jackson Pollock's paintings, Vincent Van Gogh's astral vision Starry Night doesn't seem modern, but the Museum of Modern Art considers the Dutch Master's brilliant vision of swirling clouds, physically glowing stars and moon, riveting cypresses, and teeming hillsides to indeed be modern, and Starry Night is in its collection.
Vincent Van Gogh is my very favorite painter, but I did not see an actual Van Gogh paintings until 2013, when I was 63-years-old and began spending time in Gallery 83 of the National Gallery of Art in Washington D.C.
Van Gogh's friend Paul Gauguin is also exhibited in Gallery 83. Gauguin's work would also be labeled as modern art, and when you consider that the history of art begn during the cave period and that the Renaissance was art's first big heyday, Van Gogh and Gauguin are indeed modern.
What IS Modern Art?
Most scholars say that Modern Art began at about the same time as the Industrial Revolution, and that it was the product of artists who began to closely observe life around themselves and to express what they observed.
In my opinion, the word "express" is central to the art of Vincent Van Gogh, who was not satisfied by merely painting the way that something looked to him. Van Gogh painted the way that the subject actually was–the way that it felt to him.
In Van Gogh's art, you see the growth of the trees and the energy of the sun and moon. Van Gogh was an early Expressionist who harnessed his brush and allowed it to explore the world around himself.  He moved his brush in response to those explorations and the way that they made him feel. Van Gogh was an impasto painter.
What Is Impasto Painting?
Impasto painting occurs when an almost sculptural, 3-d build-up of paint forms on the painting's surface. In impasto painting, the brush strokes or the marks of the palette knife remain evident.
Pink Roses in Blue Delft Vase – Jacki Kellum Oil Painting
Original Sold – Prints Are Available
https://fineartamerica.com/featured/pink-roses-in-blue-deft-vase-jacki-kellum.html
When I paint with oil, I use the impasto technique, and I began doing that first because I admired the texture in Van Gogh's work and secondly, because I like the way that painting with impasto allows me to physically interact and express through my art.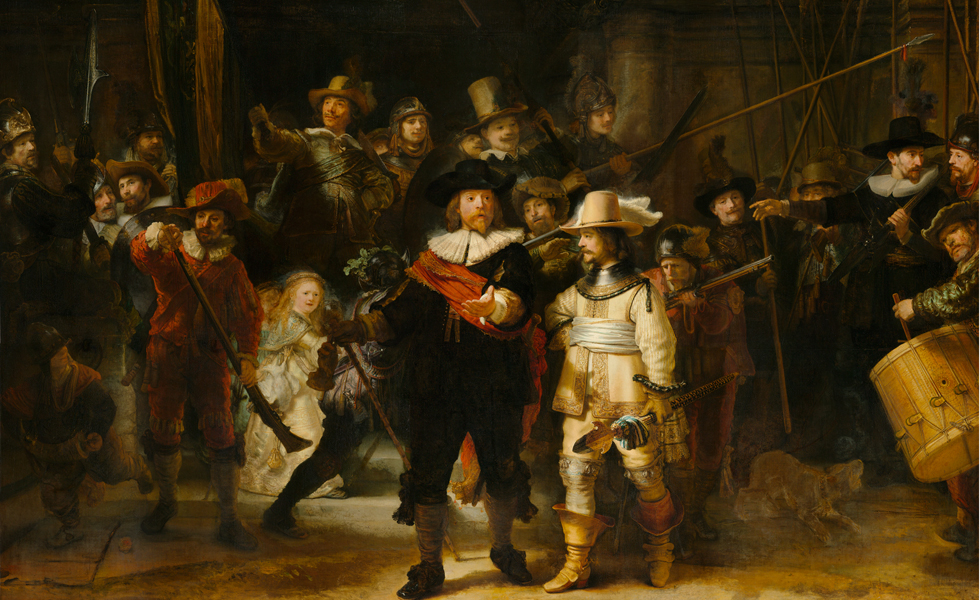 Van Gogh painted in the late l800's, but Rembrandt painted in the early 1600's, and much of his work employs the impasto techniue. At a distance, you may not notice Rembrant's use of impasto in his painting Night Watch.
Close up of NightWatch
In a slightly closer look at Night Watch, you begin to see that Rembrandt allowed his brush strokes to build.
Rembrandt's texture is even more apparent in yet a closer look at his painting Night Watch.
When you really zoom in on Rembrandt's paintings, you see that there is a great deal of impasto and expressionism in his brush work.
Both Rembrandt and Van Gogh are from Holland, and other of the Dutch Masters also painted with impasto, and they did it long before the Industrial Revolution. As with almost everything else, evolution is gradual and although Rembrandt is not labeled as a Modern Artist, his brush work is a precursor to Modernism.
In May, I am going to MOMA or the Museum of Modern Art, and hopefully the MOMA Van Gogh paintings Starry Night and Portrait of the Postman will be there at that time. I am not terribly fond of a lot of the contemporary art that Isee at the Whitney Museum. Contemporary Art is that which is painted in the current time, and my favorite period of art is the 19th Century.There are several good pieces of 19th Century of art at MOMA. Matisse is there, and Matisse is another of my favorite artists. Cezanne is there. Toulouse Lautrec is there and 19th-Century artists, too. The wonderful thing about New York City–and especially the area around Central Park–is that there are several fabuluous art museums within walking distance of each other.
One of the best things about living in the Northeast is that great art is all around me. I live in a congreagation of great art. I saw a fabulous exhibition of John Singer Sargent at the Philadelphia Museum of Art. I also saw a Rembrandt exhibition there, and I saw an incredible Andrew Wyeth exhibition at the NGA in Washington D.C. I also saw Degas and Mary Cassatt there. I have seen the wonderful Matisse collection in Baltmore, too. In March, I am returning to Washington D.C. to devour more of the fabulous 19th century paintings there, and this time, I hope to also visit the National Portrait Gallery.
I am a Southerner who just happens to be living in the art–at least for a while. I plant to move back to the South soon, and probably more than anything else, I'll miss the art that is omnipresent in the North.