15 Mar

A Happy St. Patrick's Day Tribute to the Irish Movie The Quiet Man

I am a film buff, and my list of favorite movies is long, but if I were forced to make a short list of my most very favorites, I could probably narrow my preferences to about 10, and I would have no difficulty placing the 1952 movie The Quiet Man near the top of that list. It is a movie that I watch several times a year, and in honor of St. Patrick's Day, I always watch it two or three times during the month of March.

I have read a few harsh reviews of the movie The Quiet Man. Some believe that the movie is too sentimental and that it is a glorification of stereotypes, but I believe that the naysayers are people who don't realize that the movie is a type of Romanticism, and the purpose of Romanticism is to be sentimental and nostalgic and to idealize some element of a time or a place that has passed–and most of these romanticized memories are about things that were never actually real. They are about our sentimentalized interpretations of something that we wished had been real.
Many of us have an inner yearning to return to something or to some place that we think is our lost home. The following quote captures that longing: "I am homesick for a place I'm not sure even exists."
Although I lived most of my life in Mississippi, I actually grew up in Gideon, a very small farm community in Southeast Missouri. Gideon is specifically in the very southeastern part of Southeast Missouri–the Bootheel part that juts down below the rest of the Missouri state line– downward into what would otherwise be Arkansas and/or Tennessee. In other words, I grew up and lived most of my life in the South. If I want to have a good cry and to lapse into an existential yearning, I listen to the Hastings Choir sing Dixie.
"Oh, I wish I was in the Land of Cotton….in Dixie Land, I'll take my stand, to live and die in Dixie."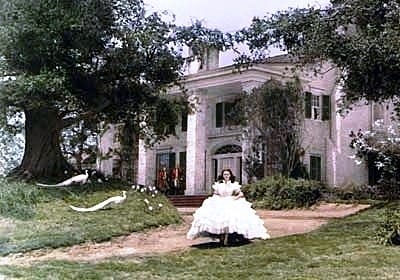 The Dixie Land of the song Dixie is like Tara. It is Gone with the Wind, and much of it never really was, but every decent Southerner longs for Dixie, ad we sing and write love letters to it all of our lives. We do that in spite of the fact that Dixie is not a place that we could pinpoint on the map. The Quiet Man is an Irish love story for an Ireland that is certainly not there now, and perhaps it never fully was there, and yes, this kind of love letter will be filled with stereotypes and simplifications and sentimentality. That is what nostalgia actually is.
The Quiet Man was directed by John Ford, who also directed all of the John Wayne Westerns. John Ford is credited for having created America's image of the Cowboy West, and that is a type of American nostalgia, too. Although John Ford was born in Maine, both his mother and father grew up in Ireland, and his real name was John Martin Feeny. Ford grew up in an Irish-speaking home, hearing his mother talk about her Irish homeland, and The Quiet Man is John Ford's poetic return to that Irish homeland.
The movie The Quiet Man is based on a short story by Maurice Walsh, but the movie deviates from the story in ways that Ford needed to deviate to tell his own story, too. John Wayne plays the part of Sean Thornton, a displaced Irish man who is fleeing from Pittsburgh to return to his Irish homeland. Sean Thornton is as much John [Sean] Ford as he is the protagonist of Walsh's short story The Quiet Man. Because Ford was telling his own story, too, he even changed the central character's name to Sean. John Ford often referred to himself as Sean [John].
Ford changed the name of the story's Irish village to Innisfree, and that is a hint that Ford himself knew that his movie was Romanticism. John Ford was born in 1894. In 1888, the Irish poet William Butler Yeats wrote the Romantic poem The Lake Isle of Innisfree. It is a reflection upon the poet's childhood home.
The Lake Isle of Innisfree
BY WILLIAM BUTLER YEATS
I will arise and go now, and go to Innisfree,
And a small cabin build there, of clay and wattles made;
Nine bean-rows will I have there, a hive for the honey-bee,
And live alone in the bee-loud glade.
And I shall have some peace there, for peace comes dropping slow,
Dropping from the veils of the morning to where the cricket sings;
There midnight's all a glimmer, and noon a purple glow,
And evening full of the linnet's wings.
I will arise and go now, for always night and day
I hear lake water lapping with low sounds by the shore;
While I stand on the roadway, or on the pavements grey,
I hear it in the deep heart's core.
While John Ford was born in America, the female star of The Quiet Man, Maureen O'Hara was born in Ireland, and no one could have played the part of the tempestuous Irish lassie, Mary Kate Danaher, any better than she did. The movie The Quiet Man is also Maureen O'Hara's love story to her homeland, and she helped to write the lyrics to the movie's theme song The Isle of Innisree
LYRICS USED IN THE FILM:
(by John Ford, Charles Fitzsimons and Maureen O'Hara)
Oh, Inisfree, my island, I'm returning
From wasted years across the wintry sea.
And when I come back to my own dear Ireland,
I'll rest a while beside you, gradh mochroidhe.*
In his poem The Lake Isle of Innisfree, William Butler Yeats says that he is returning home, to a place where he will find peace again:
And I shall have some peace there, for peace comes dropping slow,
Dropping from the veils of the morning to where the cricket sings;
There midnight's all a glimmer, and noon a purple glow,
And evening full of the linnet's wings.
John Ford added to Walsh's story the idea that the American who was returning to Ireland had been a boxer and that he was fleeing the fact that one of his boxing matches had resulted in the accidental killing of another boxer. The Quiet Man Sean Thornton wanted peace, too, and as the movie progresses, the peace-seeking boxer is provoked again and again to fight and to shatter his hopes of peace.
I believe that the ultimate message of the movie is that Sean Thornton is forced to identify what is worth fighting for, but as the movie begins, he arrives in Ireland on a train. The train itself is symbolic of the technological, hard world that Sean Thornton wants to flee. Soon, he is loaded into a horse and buggy to ride to Innisfree. The horse and buggy are an image, too. They allude to the more simplified, the more rural, the more idyllic life that Sean Thornton seeks:
Soon, Sean Thornton spots Mary Kate Danaher. She is herding sheep through an Irish valley. Nothing is more pastoral and more idyllic than that scene.
But when Thornton outbids Will Danaher for the purchasing of his family's cottage and farm, he is thrust back into strife again.
And to make matters worse, he wants to marry his new enemy's sister.
John Wayne and Maureen O'Hara are clearly the stars of the movie The Quiet Man, but Barry Fitzgerald, who plays the matchmaker Michaleen Fynn, is also an important character. The matchmaker is representative of the old Irish culture that is being threatened by the advances of technology.
Early in the movie, Sean Thornton and Mary Kate Danaher fall in love, but the strife between Mary Kate's brother Will and Sean continuously impedes the progression of that romance, and the drama of the story is centered around the "race" to  obliterate all of the obstacles that are thwarting the couple's union.
Although Sean Thornton and Mary Kate Danaher marry early in the movie, they do not immediately find marital bliss. Because of ancient Irish traditions, it is essential to Mary Kate that she enter into her marriage after the payment of a dowry, but her brother refused to pay her husband, and because Mary Kate cannot accept that affront, the marriage is nearly destroyed
Because her husband will not fight her brother for the dowry that she is due, Mary Kate believes that she has married a coward and she refuses to consummate the marriage. For an Irish Catholic lady, almost a century ago,this is especially vexing. She believes that she has a moral–even a religious obligation to satisfy her husband's needs. Now, both Sean and Mary Kate have lost their inner tranquility. Mary Kate's inner peace is destroyed by her guilt and the fact that her marriage is a sham.
Ultimately, Sean Thornton has all of the turmoil that he can take and he exerts the power needed–he fights–to bring control into his life. Irish traditions are upheld, and everyone lives happily ever after.
If you are scratching your head and saying, "But that is not real. No one lives happily ever after," I'll readily agree, but I remind you once more that The Quiet Man is not a documentary. It is not an exhibition of life as it ever was in Ireland. It is Romanticism. I recently watched a documentary about the making of the movie The Quiet Man, and Martin Scorsese sums it up by saying that The Quiet Man is a poem. It is a Romantic Love Poem to an Ireland that most of us want to find. Perhaps, like the leprechauns themselves, that Ireland is somewhere over the rainbow, and perhaps all of us will get there someday.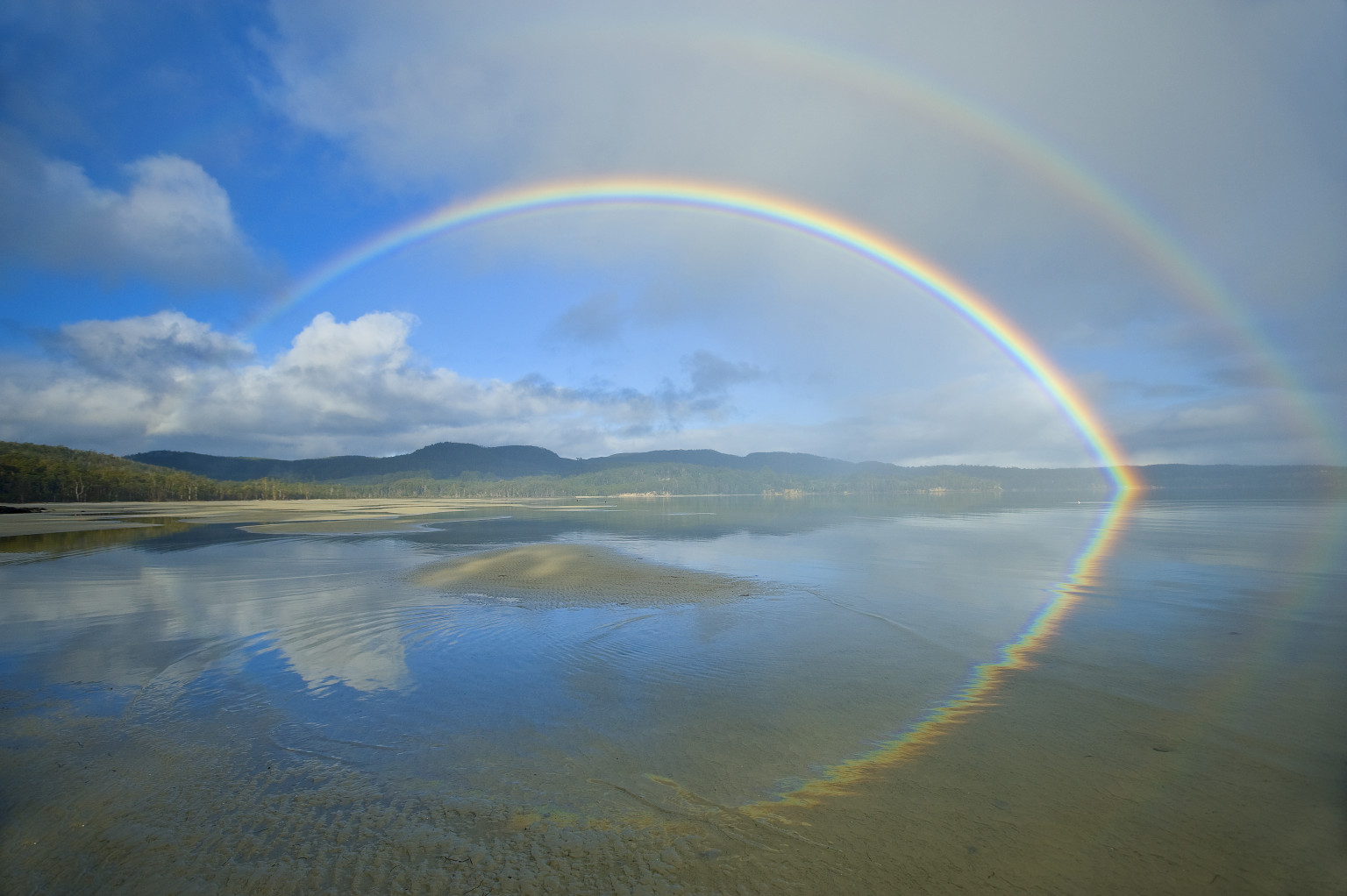 In terms that Hollywood uses, The Quiet Man is a romantic comedy, and I generally detest romantic comedies, but like an excellent cream, this movie rises to the top. The comic elements of The Quiet Man are tempered by the fiery tempestuousness of Maureen O'Hara and the staunch ruggedness of  John Wayne. John Wayne, Maureen O'Hara, Irish cottages, and Irish pubs–now, that is fodder for a great, old movie. John Wayne and Maureen O'Hara made several movies together, and I like all of them, but in my opinion, The Quiet Man is one of their best movies. It is interesting that John Ford is generally remembered as the creator of the cowboy movies, but his Irish Quiet Man is the one that won the Oscars.
I love the film's cinematography. The greenness of Ireland is played heavily upon, and red is the complement of green. I love all of the dots and dashes of reds throughout The Quiet Man. In addition, Maureen O'Hara has flaming red hair.
There are other brilliant uses of color in the movie. Blues and whites are also played against the 
reds. A couple of times in the movie, we see O'Hara working in the blue and white kitchen of her homeplace. The cupboard is filled with blue and white dishes, and a blue and white checked cloth is on the table. Those scenes are a visual treat.
I am a visual person and the careful use of color in The Quiet Man may have appealed more to me than some. I am also an avid gardener–and I especially like cottage gardens. In fact, I have an entire blog site dedicated to cottage gardens. I naturally enjoyed the use of the Irish cottage, in the movie The Quiet Man.
Truthfully, I liked all of the cottagey, blue and white, British touches of The Quiet Man. I also collect blue and white, English China. That is simply my style. Several times before, I have admitted that I am partial to Britsh films. The Quiet Man is not a British film, but it is set in Ireland and is rich with Irish overtones. I am especially nostalgic about the cottage lifestyle of the UK during the 19th Century and early 20th Century, and I feel sure that my nostalgia has colored my appreciation of the movie The Quiet Man, but I earnestly believe that even without my sentimentality, I would still love this film.